01443 400960

Pay & Play Practice
Lea Bridge Matlock
July 31st - Pre Book

0161 483 5559

01423 772885

1 or 2 DAY
ENDURO SCHOOLS

Enduro Practice
KEYNSHAM

KID'S TRACK
OPEN MOST WEEKENDS & SCHOOLS HOLIDAYS
£10 PER RIDER PER DAY
07967 993050
About
Enduro News was started in 1998 by Bob Mullins to promote the 1999 2nd round of the FIM World Enduro Championship held in Llandovery Enduro is the offroad motorcycle equivalent of car rallying. Riders follow a marked course & compete over timed stages. It requires the technical ability of Trials & the speed of Motocross. As well as the ATV machines made by Honda, Yamaha, Suzuki & Kawasaki there are specialists manufacturers such KTM, BMW, Husaberg, Husqvarna, GasGas, TM, Sherco & Aprilia. The machines require tough suspension & road legal Mx tyres. Tyre manufacturers such as Metzeler Maxxis Michelin & Pirelli sponsor the events. There is an aftermarket parts industry with Acerbis plastics, Renthal handlebars. FMF exhausts, The riding gear is also specially made by suppliers such as Sinisalo, No Fear, Thor, Scott, Oakley goggles, Fox, Alpinestar boots, Aria, Airoh helmets.
Enduro News is sponsored by CTR Events, D3 Racing, Dirtbike-Action, Dr.Shox Suspension, Eurotek, Evans Waterless Engine Coolant. Fast Eddy Racing, Edmondson Racing, Endurotyres, GBXC, Haines & Co., Husqvarna, Manchester Extreme, Midwest, Mounter Motorcycles, Paul Green Tyres. Pro-Racing, Race Spec, RideoffroadUk, Steve Plain MC, Taurustrax, TM Racing, TracknTrail, WOR Events
Enduro News received 1,000,000+ hits in 2014
Fast Eddy Racing
ACU Fast Eddy British Sprint Championship Rnd3
Giacomo Redondi
Giacomo Redondi wins the 2016 EnduroGP EJ class Championship
Husqvarna
HUSQVARNA MOTORCYCLES EXTENDS CONTRACT WITH GRAHAM JARVIS
EXTREME ENDURO STAR TO STAY WITH HUSQVARNA FOR AN ADDITIONAL TWO YEARS
Husqvarna Motorcycles is pleased to announce the renewal of their contract with Graham Jarvis – an agreement that will see the British rider continue to lead the efforts of the Rockstar Energy Husqvarna Factory Racing extreme enduro team during the 2017 and 2018 seasons. . Details
European Enduro Championship
European Enduro Champnioship
End of European summer break: Start of the second half in Latvia
After a tremendous start to the season with 2 rounds in March, there has ben a lull of several months before the European Enduro Championship (EEC) arrived at the third round: On 30th and 31st of July 2016 the competition returns to Ogre in Latvia where it was last held in 2012 foe the first time. Details
Sherco
2017 Sherco Enduro Range
Towards Perfection
Mechanically advanced and highly acclaimed by the public, with a distribution network that has expanded to over 70 countries. The Sherco Enduro 450 is currently leading the Enduro GP World Championship in the capable hands of Matthew Phillips. The Sherco Enduro bikes have become the reference for the rest of the industry. The 2017 Enduro range demonstrates this more than ever. Details
WOR Events
Charlie Frost wins the inaugural Tough 100
Fast Eddy Racing

Fast Eddy Racing
Rock Oil XC Championship
Round 6 - H2O. Oswestry.
By Tim Tighe. Pics by Tilde Tighe foto-x.co.uk
Ben Murphy's recent run of excellent form saw him take the overall victory in the main race of the day as he lead virtually from start to finish of the two and a half hour race.- Details
RAW Events
RAW Enduro Challenge - 6 Hour Solo & 2 Man Relay Team Hare & Hounds
Round 3 "The Challenge Event Final" August 14th Driffield YO25 9HD
So here it is folks, a monster 6 hour Hare & Hounds event running at the Awesome 650 Acre Driffield MOD driver training area. After a hugely successful first two rounds, the final round of the Challenge series sees the biggest test yet for many solo's and teams. Driffield will be graded up to ensure track conditions are at their best, many riders are already showing interest on a national scale as the event will be a great training session for any D2D addicts - Details
WOR Events

WOR EVENTS SCE TIMECARD ENDURO
CLATTER JULY 2016
TIME (CARD) FLIES WHEN YOUR HAVING FUN
Report : K. Williams CWL Photography
WOR Events ran their second SCE timecard enduro of the year last weekend at Clatter in Mid Wales on a massive open moorland, mountainside track. It went down possibly even better than the hugely successful one they ran back in April in the Llandrillo forest, with all riders really giving fantastic feedback post race. Details

Wales & West

Back to Brynmawr
24th July
Wales and West MCC returned to Brynmawr South Wales for the 3rd round of their 2016 Championship. The weather was humid with increasingly prolonged showers of humidity blowing in from the west. Jordan Ridgway took the hole shot and the early lead while Charlie Frost (W-Mounter KTM) took the first hour to scope the gnarly course before moving to the front to win the 3 hour race with 23 laps. Rhys Davies on 22 laps was runner up and Jordan Ridgway was 3rd. Derek Bawn also completed 22 laps to take 4th, Matt Jones was 5th and James Benney 6th. Liam Phillips in 7th was the best Clubman 2t. Grant Churchward (8th) won the Supervets. Paul Simons (14th) was the best Clubman 4t. Richard Holland topped the Vets. Results - Photos.
Paul Bolton

Bolts gets the all clear
After injuring his neck in Day 1 in the mountains at Red Bull Romaniacs, Paul is pleased to report that he has had the all clear and is now back on the bike! - Details.
Endurocross
Endurocross racing at The Dalriada Festival in Glenarm, promoted by Carrickfergus & District Motorcycle Club in association with HTM Off Road..
Rallying

Baja Aragón 2016 - 2016 season Stage 2
Victory for Barreda in the Baja Aragón
Joan Barreda has taken top honours in the Baja Aragón 2016. The Spaniard from Team HRC ruled the roost from start to finish throughout the entire rally. This is his third overall triumph in the event. Teammate Michael Metge, from France, likewise rode a storming final race to land a podium spot. Details.
World Trials
2016 FIM Trial World Championship - Tong, Great Britain
Enduro GP

Stolen Bikes
Team Miglio Yamaha had 2 bikes stolen from their race truck at the Enduro GP of Italy. The 2 WR250fs belong to Jamie McCanney and Mikael Persson Frame No's;
ZENWRE251EF600550 and ZENWRE251EF600601. Any information please contact Team Miglio - Details.
Enduro GP
Paddock News
Just How We Like It!
The holidays are finally here for the EnduroGP paddock! Now it's time for sunbathing on the beach, traveling and adventures, or training on jetskis and bicycles. But first, let's look back at the penultimate Grand Prix of the season, masterfully put on by the Moto Club Artiglio of Attigio. . Details.
ISDE
Italian federation announces ISDE teams
The Italian federation have announced their teams for the 2016 International Six Day Enduro in Navarre, Spain. Details.
Husqvarna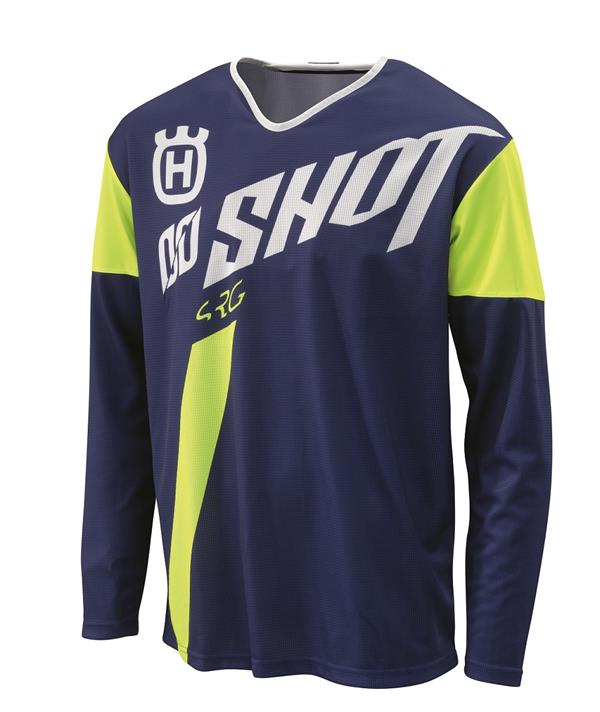 HUSQVARNA MOTORCYCLES INTRODUCES THE SHOT REPLICA FLASH COLLECTION
PERFECT FUNCTIONAL OFFROAD GEAR TO ENHANCE YOUR RIDING EXPERIENCE
Husqvarna Motorcycles presents the Shot Replica Collection, a range of high-tech, functional offroad clothing that helps make your offroad riding experience all the more pleasurable.
. Details.
EnduroGP
.

Mika Ahola « Brave One » Trophy
REMES Does The Double!
At the last Grand Prix before a well-earned summer break, the EnduroGP riders were once again faced with a very physical and technical Enduro Test where the slightest mistake could cost you everything. Details.
RAW Enduro
The Rock Oil Championship
Round 5 Carlton Grange Helmsley
Report: Imprint Media Images: Becky Dean / RAW
Carlton Grange near Helmsley in North Yorkshire welcomed RAW Enduro for round 5 of the 2016 Rock Oil Championship on July 17th. Details
WOR Events
PUTOLINE HARE SCRAMBLES RD 5 + MICHELIN XCE RD 4 DOUBLE HEADER @ BADEN HALL
"Sting- RAY"
Sunny and very hot conditions greeted the riders at last weekends WOR double header hare scramble. Details
QUAD UK ENDURO SERIES RD 5 - BADEN HALL, STAFFS.
"Sibling Rivalry"
The two Owen brothers dominated the latest offering from WOR Events in the UK Quad Enduro series Rd 5 at Baden Hall in Staffs last Sunday. Details
Enduro GP
Jack Edmondson - World Champion
16th July - Fabriano, Italy
Congratulations to Jack Edmondson who has claimed the 2016 World Enduro Championship 125 Youth Cup on the first day of the Enduro Grand Prix of Italy in Fabriamo with 3 rounds in hand.
Triple-D Motorsport

01539 732666



FINANCE AVAILABLE
Subject to status
Featured Events

XTREME KIELDER THE TIMBER TRAIL
Dirtbike action is pleased to announce the longest and hardest extreme enduro seen on UK soil.
After months of negotiations with the forestry commission the date has been set 30/31 July Wark forest Kielder Northumberland
The course will be 50 to 60 miles 1 lap of tough going set to test man and machine, Saturday will be prologue day starting 2 pm this will determine the start order, Sunday will see the riders with an 8 am start and 6 hours to get to the Finish. There will be bronze and silver finishing points for the lower classes but the ultimate achievement for all classes is to get to the finish this is a round of the Eurotek Putoline extreme championship. Details

RAW Training School & Play day weekend.
Lea Bridge Matlock DE4 5JN Saturday July 30th / 31st
Raw Enduro are running a weekend full of Enduro action to see out the month of July. Saturday July 30th is a training day aimed at Novice and Sportsman class riders, strictly limited to a max of 10 riders, and priced at a very reasonable £75 per head, here Wayne Braybrook will deliver a structured training session which will run for 4 hours. Booking essential text Wayne on 07802 572023.
Then on Sunday July 31st the venue will be open for Enduro Pay and Play from 10am to 3pm, Toilets and Catering will be on site. The course is compact Enduro loop which has tracks and trails, as well as some woodland and open grass fields, great for enduro fun and exercise. The cost of the Pay & Play is £30 to RAW members and £35 to non members.
We ask riders to simply drop us a text to confirm their attendance, this simply helps our caterers so they can have enough product on the unit for the amount of riders expected on the day.
Info on www.rawenduro.co.uk

7th August - Keynsham Funduro track is open from 10am to 4pm and every other Sunday after that and is £20 per rider per day.
The address is Keynsham Funduro, Chandos Lodge farm and Stables, Durley lane, Keynsham Bristol BS312AJ.
Phone Chris on 07967993050 Email; keynshamfunduro@gmail.com

Eddy's H20 Xtreme Classic:
Entries now open
Entries are now available for a new hard enduro race in the calendar: The H2O Xtreme Classic on 13th August. Details


RAW Challenge 6 Hour Enduro at Driffield on the 14th August - Details

Track n Trail Freeride 14th August 2016. at Scrubs Farm, Nr Winchester Post code SO24
Course includes a broad leaf woodland section. The start and parking area is in an open grass parkland with the course running 3-4 miles incorporating this beautiful area. There are many open grass areas with plenty of natural jumps. This venue is very popular so please book up sooner rather than later.
To view high lights of last year's track watch this Video. https://youtu.be/-tf2IsA2PaU
This venue is very popular so please book up sooner rather than later. Adult and youth practice plus a youth beginner's track, run under ACU guidelines to book in go to events page at www.trackntrail.co.uk and enter online any problems please text your name and event date to 07581143212 you can email as well office@trackntrail.co.uk payment is on the day, Members pay £32, Non Members pay £35 Starts 10am finishes 3pm.
Thanks for your support Mike


21st August - Blackheath Autosports special fun event. Venue is Leominster, brickhouse farm HR6 0NT. Free overnight camping is available.2.5 hour single race non championship, trophies on the day for top three in each class. Classes are vets expert clubman sportsman. Entries £40 and £50 on the day. Day licence is available. Enter via Facebook "blackheath Autosports" group or text 07788694171 with name, bike number and class. Entries open two weeks prior to the event.


MAXXIS PROLOGUE
Friday Evening 26th August - 1st riders start 6.30pm
Cwmythig Hill, near Rhayader, Mid-Wales
Holcombe, McCanney, Knight, Sagar, Walker, Bolt, Sealey plus many more!
Come & watch the UK's top enduro stars battle it out in a head to head duel
over a short extreme type test with lots of man-made obstacles.
Timetable of events:


3.30pm – 6.00pm – Signing-on/Scrutineering
6.30pm – 8.00pm – "Prologue" (for Championship class riders)
8.00pm – 11.00pm – Local band Lucky Pierre singing live in the Marquee.
Licensed Bar – Hog Roast – Children's Bouncy Castle


Admission FREE OF CHARGE – Camping available - All welcome.
Don't miss the action!
For further details – www.rdmcc.co.uk


RHAYADER 2 DAY ENDURO
Saturday/Sunday 27th/28th August - Start time 9.00am


Cwmythig Hill, near Rhayader, Mid-Wales
Holcombe, McCanney, Knight, Sagar, Walker, Bolt, Sealey plus many more!
Come & watch the UK's top enduro stars battle it over the weekend.
Saturday 27th August:
9.00am – 5.00pm – Enduro Day 1
7.30pm – 8.30pm – Presentation of Awards including the "Trevor Evans Cup"
8.30pm – 11.00pm – the brilliant Paul Dark singing live in the Marquee.
Licensed Bar – Hog Roast – Rodeo Bull - Children's Bouncy Castle
Sunday 28th August:
9.00am – 4.00pm – Enduro Day 2
Admission FREE OF CHARGE – Camping available – All welcome.
Don't miss the action!
For further details – www.rdmcc.co.uk