Videos
Yamaha Miglio Team
CTR WSC Final
2015 AMA H&H Round 2
Full Gas Sprint Enduro Series Round 1
DirtbikeAction practice day Team Hensall
FIM SuperEnduro GP of Mexico
Sucker Punch Round 2
Jonny Walker The Movie
Italian Enduro Championship Round 1
Fast Eddy Extreme Tong
Happy New Year Team Hensall
CTR Motoduro Final
Heads of the Valleys Digger Films
David Knight at the Heads of the Valley Interview
1989 Gernan ISDE
2014 Wildwood Rock Hillclimb
CTR WESC Round 3
2014 GEICO EnduroX Final
2014 Wildwood Rock Enduro
Graham Jarvis in Oz
Weymouth Beach Race
Dalton XC
Robbie Madison Drops In
ISDE Day 6 -Day 5 - Day 4 - Day 3 - Day 2 - Day 1
2014 Enduro Championship Provence Final
Pela Renet wins the Gotland Enduro Vibbledarar - Cordial Pix
2014 AMA National Hare & Hound Series Final
2014 Baja Rally
The Original Fast Eddy Main Event-Hawkstone Park 2014 Team Hensall
FIM World Super Enduro 2014 - 2015 Teaser
Dr Shox School of EnduroI
Manchester City Trial 2014 Highlights
Lost in the PNW Kyle Redmond, Rory Sullivan and Ricky Russell in the Pacific North West
Ivan Cervantes wins Aquatic Xtreme
Sea to Sky Day 1 Beach Race Day 2 Forest Race Day 3 Final Highlights
Graham Jarvis returns to Husqvarna Motorcycle's homeland in Sweden
Danny McCanney 2014 Enduro Junior World Champion
WEC GP of France Final Round Brioude Review
Corduroy Enduro 2014 Tthe 61st running of Canad's "Hard Enduro" at Gooderham Ontario
Paul Bolton Freeride in Romania
Cody Webb @ 2014 Kenda Tennessee Knockout
2014 Battle of the Vikings Video
Red Bull 2014 Romaniacs Video
Honda Redmoto Zanardo EWC Team - Video
Beta factory rider Justin Sode riding the pines of South Carolina. Video
About
Enduro News was started in 1998 by Bob Mullins to promote the 1999 2nd round of the FIM World Enduro Championship held in Llandovery Enduro is the offroad motorcycle equivalent of car rallying. Riders follow a marked course & compete over timed stages. It requires the technical ability of Trials & the speed of Motocross. As well as the ATV machines made by Honda, Yamaha, Suzuki & Kawasaki there are specialists manufacturers such KTM, BMW, Husaberg, Husqvarna, GasGas, TM, Sherco & Aprilia. The machines require tough suspension & road legal Mx tyres. Tyre manufacturers such as Metzeler Maxxis Michelin & Pirelli sponsor the events. There is an aftermarket parts industry with Acerbis plastics, Renthal handlebars. FMF exhausts, The riding gear is also specially made by suppliers such as Sinisalo, No Fear, Thor, Scott, Oakley goggles, Fox, Alpinestar boots, Aria, Airoh helmets.
Enduro News is sponsored by CTR Events, D3 Racing, Dirtbike-Action, Dr.Shox Suspension, Eurotek, Evans Waterless Engine Coolant. Fast Eddy Racing, Edmondson Racing, Endurotyres, GBXC, Haines & Co., Husqvarna, Manchester Extreme, Midwest, Mounter Motorcycles, Paul Green Tyres. Pro-Racing, Race Spec, RideoffroadUk, Steve Plain MC, Taurustrax, TM Racing, TracknTrail, WOR Events
Enduro News received 1,137,088 hits in 2013

All content © Bob MuIIins
Extreme
Thee 2015 Tough One
This weekend - Saturday 7th March - at Nantmawr Quarry near Oswestry - Details
Trials
British World Trial GP
12-13-14th June - Penrith
The organizers of the British round of the FIM world trial championship are pleased to announce the joint title sponsors for this year's event in June. We welcome as sponsors Bill Brown from wulfsport and Ian Smith from Oset Details
GNCC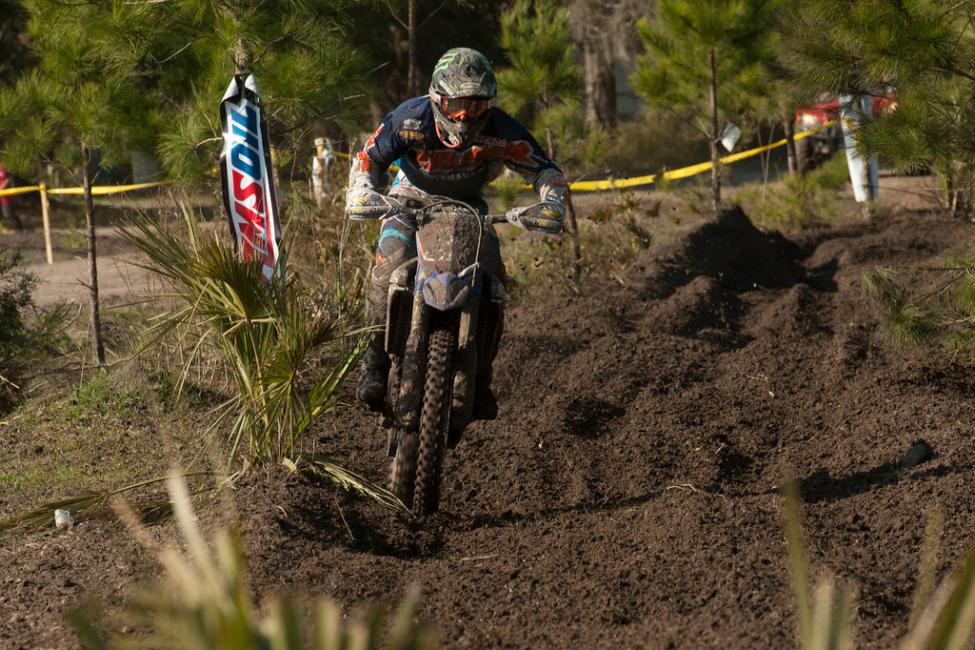 AMSOIL Grand National Cross Country Series Kicks Off This Weekend in Florida Alongside Daytona Bike Week Festivities - GNCC Racing Boasts a Weekend Full of ATV and Motorcycle Off-Road Racing
The 2015 AMSOIL Grand National Cross Country Series presented by Maxxis, an AMA National Championship, is set to embark on its 41st annual season this weekend, March 7 and 8, alongside Daytona's "Bike Week" festivities in Florida. The Moose Racing Wild Boar GNCC in Palatka serves as the season opener for the 13-round championship series, where ATVs race throughout the day on Saturday and motorcycles line up for a full day of racing on Sunday through some of the most intense, grueling obstacles in off-road. Details
RAW ENDURO
Round 1 of the 2015 RAW ENDURO at Driffield - Results
CORE

CORE Off Road Events Crediton Raceway
01-03-2115
Enduro Cross
Report & photos Teamsnapper
It is very plain to see why CORE have become such a force in the Enduro event calendar with such enthusiasm and a very much hands on approach and are very much up for adding a twist to try and mix Enduro with MX, Crediton Raceway is a permanent MX track that is in a nature bowl which makes it great for spectators add a few scrub fields, a copse and some manmade obstacles like tyres, logs and a car to go over and you have Enduro Cross, format is 3 x 45 minute races and highest points scores over the 3 races is winner, and to make things even trickier all levels have to do the obstacles so no easy or chicken routes which all clubs should adopt if the obstacles/hazards are not extreme, a great entry despite clashing with two local MX events and plenty of rain to add the list of fun... or not as the case may be. Details - Photos
Spain
Jamie McCanney - Back to form in Spain
The Moto Club Nogalte hosted the first round of the 2015 Spanish Enduro Championship at Puerto Lumbreras last weekend. Conditions were dusty. Jaume Betriu E2 was the overall winner. Jamie McCanney has recovered from the shoulder injury that kept him off the bike last year. His pace improved throughout the day and he took the last 2 tests. It was not enough to take the win and he had to settle for 2nd but it was a promising start to the 2015 season. Lorenzo Santolino was third and the best E1, Jonathan Barragán won the E3,
Results
USA
Robby Bell Wins at Canyon MX
Robby Bell extended his winning streak to three straight at Canyon MX in the 2015 Rocky Mountain MC World Off-Road Championship Series presented by Maxxis and Dirt Bike. Details
USA
ANDREW DELONG CLAIMS VICTORY AT THE SANDLAPPER NATIONAL ENDURO
Rockstar Energy Husqvarna Factory Racing's Andrew DeLong put in an impressive ride at the second National Enduro of the 2015 season. Cold, rainy weather and slick sand made for a tough day of racing in Pelion, South Carolina, but that didn't stop DeLong from overcoming and winning four of the six tests Details
Enduroland

Enduroland
Madscrap.com Southern & Midlands H&H Championship 3-hour hare & hounds
Photo & report Tim Tighe
The Hillside at Ivinghoe Aston isn't a particularly well-known venue, but it should be! It is massive and populated with a host of challenges for riders from flat-out field sections to tight and technical twisty woodland, rolling hills and off-cambers plus a bit of everything in between. Details
SuperEnduro
Cody Webb wins his first SuperEnduro!
After Guadalajara, the Maxxis FIM SuperEnduro World Championship is back on Saturday, February 28th in the already mythical Mineirinho Arena in Belo Horizonte for the 5th stage of the season! Details - LIVE Results
Jonny Walker
Frustration For Walker At Brazil SuperEnduro
It was a case of close but no cigar for Jonny Walker at the fifth round of the 2015 FIM SuperEnduro World Championship in Belo Horizonte, Brazil. Details
Husqvarna
Gomez and McCanney battle on in Brazil
Bel-Ray Husqvarna Factory Racing team riders Alfredo Gomez and Danny McCanney were both in action at round five of the FIM SuperEnduro World Championship in Belo Horizonte, Brazil – the penultimate round of the six-event 2015 series. Details
Diss MCC
Illegal Riding Thetford Forest – Zero Tolerance
Bikes will be crushed
The Auto-Cycle Union (ACU), Norfolk & Suffolk Police Constabularies and the Forestry Commission in East England are to apply a zero tolerance approach to any user caught illegally riding a motor cycle in Thetford Forest. Details
Enduro-X

Mike Brown wins Rd2 of the Australian Enduro-X


Husqvarna Enduro Racing Team

rider Mike Brown extended his lead in the Australian Enduro-X Nationals with a win in the 2nd round at the Sydney Dragway. Details

THIS SATURDAY MARCH 7th IS THE MICHELIN TOUGH ONE - RD 2 OF THE REDBULL HARD ENDURO TOUR OF THE WORLD
Plenty of park and ride spaces are available with buses every half hour throughout the day from SY11 4QA (Oswestry cattle auctions) .....
All the pre booked quarry access vehicle passes have been sold ...Park and Ride is the only way in....
See you there ...8am till 6pm.
Fast Eddy Rock Oil XC Rd.2
Following a terrific opening event at The Butts Quarry the second round of the 2015 Fast Eddy Rock Oil XC Championship is all set for Bicton Farm near Shrewsbury on March 8th.
The Bicton venue, postcode SY3 8EU, is always a popular place with its varied terrain of fields, woodland and MX track and if the opening event of the series is anything to go by, it should see a cracking field of riders take to the line.
Three races are planned starting with the 90 minute Youth race for Auto, 65cc, SW85cc and BW85-150cc riders. This is followed by a two-hour race for Sportsman, Sportsman Veterans, Youth 13-16 and Novice riders.
The final race of the day is for the Pro, Expert, Clubman and Clubman Veterans and also runs for two hours.
The first of this year's FED Days takes place the day before the event, on Saturday 7th March, when riders can practise all day long for just £30.
Entries are now open for both the FED Day and Rock Oil XC second round.
Call 01543 370070 or email CLICK HERE or go to www.fasteddyracing.com for details
SUDBURY MOTOR CYCLE CLUB
This Sunday 8th March sees the Sudbury Motor Cycle Club's annual Endurothon being staged at Foxborough Quarry Sible Hedingham Essex. This is a nonstop six hour event with a Le Man type start with the competitors running to their machines with the Championship Class Teams starting first at 9 am; they will be followed by the Expert Class then the Clubman Class and Sportsman Class. After this the Ironman (Solos) Class starts and they have to complete the full six hours all by themselves. It will be the usual method of lap scoring however another system will be used along this which will be transponder based. Each rider will have a wrist band and at the end of each lap they will swipe this against a receiver which sends a signal to the computer to record their progress. This system was tried out last Sunday and proved successful and it is the intention of the Club to invest into more equipment. Details
Train in Spain with Fast Eddy March 12th-19th
Based at the Puigemont Enduro Park, riders will experience six days of riding at some of the most exciting venues in the area: Oriol Mena Enduro Park, Santa Coloma Enduro Park, Miki Arpa Special Test area in addition to the Puigemont facilities and will also have a full day of trail riding around the area.
Tuition will be in the hands of Paul and Jack Edmondson, who will be running the show, along with the rest of the Spain Team, Richard Freeman and Josh Snowden.
Bike transportation to and from Spain, accommodation, breakfast and lunch are all included in the deal with riders simply having to sort their own flights, insurances and evening meals.
Each trip is limited to just 15 riders and in past experience, they fill really quickly so, if you want to express your interest email Mandy on mandy.edmondson@virgin.net or call 07973 563191 for more details
1415th March Helmsley Enduro
THE PUTOLINE/EUROTEK NORTHERN ENDURO CHAMPIONSHIP
Dirtbike action return to this fantastic venue for the opening 2 rounds of a brand new time card championship and a very special price for riders that take the 2... day option just £80 must prebook online before 1st march or you can ride a single day £58
starting at high baxtons farm Helmsley and using 2 of the 5 valleys available to the team ,this event see's the debut of a brand new special test that will feature in the may BEC the course is 17 miles of the best enduro terrain in the north with no bogs or stoppers again the dba team will have 2 tests start 10 am all classes www.dirtbike-action.co.uk 07557665647 this is a new premier time card series with the best venues in the North of England, fantastic product prizes and trophies at a free to all presentation evening on the 19th Dec at Harrogate football ground , preprinted numbers and backgrounds supplied acu licence or day licence required
Dr Shox
Enduro Boot Camps
Dr Shox 2014/15 Winter Enduro Boot Camps; 14/15th March - Details
Entries are still available for the Forthcoming Rhayader MC's organised Jack Frost Enduro.
(This is the 2nd round of the ET James sponsored Welsh Enduro Championship).
This will take place on Sunday 15th March & will start from Saintswell Practise Centre, nr Rhayader, Mid-Wales.
The route will be approximately 12 miles per lap of forestry tracks & open fields.
The course has been set out for with Clubman/Sportsman class riders in mind.
There are classes for Championship, Expert, Clubman, Veteran Over 40's, Veteran Over 50's & Sportsman.
New for 2015 is Transponder Timing.
Entries are available from the ACU on-line entries website – https://members.acu.org.uk/Secure/Login.aspx
Or you can print off the entry forms from the Clubs website – www.rdmcc.co.uk
15th March - ActionTrax Enduro - North Farm Tunbridge Wells. This is our home track, we're constantly evolving at this site, and no 2 events here have the same layout, with plenty of mixed riding, technical woods sections and fast open fields, there's something for everyone. The entrance to this track is located just off the roundabout with the A21 at Tunbridge Wells Industrial Estate. The Junction into Kingstanding Way is at the traffic lights next to Carpet Right. The site entrance is about 500 yds down Kingstanding Way after the "K College" sign. PostCode: TN2 3UP. Details
Sunday 22nd March - Track N Trail Enduro Freeride - Maiden Newton closest Post code DT2 9NW
Described by Trail Bike Magazine as probably the best Enduro Track in the country. Details
29th March - WOR Events will run the MICHELIN NORTH WALES ENDURO in the Llandrillo forest.
The last long lap time card enduro event the WOR ran back in December 2014 was a huge success and once again they aim to deliver another classic. Details
CLICK HERE FOR CALENDAR FOR FULL LISTINGS