CORE 3 HOUR HARE & HOUNDS - 31st August
DETAILS
Videos
Onboard with Cody Webb @ 2014 Kenda Tennessee Knockout Video
2014 Lumezzane Extreme Video
2014 Battle of the Vikings Video
Red Bull 2014 Romaniacs Video
Honda Redmoto Zanardo EWC Team - Video
Beta factory rider Justin Sode riding the pines of South Carolina. Video
French Championship at Scaer - Video
Shane Watts Tech tips - Handlebars Brakes Radiators
Testing with Tom Sagar & Brad Freeman - Video
Official Fight Like A Girl Fest at Baskerville Hall 2014 - Video
2014 Enduro of Limousin - Video
2014 Last Dog Standing Extreme - Video
2014 Tattersalls Finke Desert Race - Video
Jonny Walker Erzberg hteadcam
Taddy wins 2014 X games in Austin - Video
Erzberg 2014 - Video - highlights
2014 BSEC Rd3 Tetbury Video
Homero Diaz - Global Journey - Video
Dakar 2014 Broadlink KTM Rally Team
Riaan van Niekerk and Darryl Curtis prepare for the 2014 Dakar Rally in the Namibian desert for the final time. Video
Ben Grabham prepares for Dakar 2014 - Video
Wild and Woolly 2013 - Details
Red Bull KTM Racing's Dakar Rally Team Build-Up Details
Finally a timely reminder of the dangers of winter river crossings - Video
The Modern Motorcycle Diaries Alex Chacon's epic motorcycle journey from North to South and back across the Americas. Video
Team GB at the 2013 ISDE - Video
Meo & Nambotin win 2013 EWC titles Video
Scooter Man Video
1960 Scrambling Video
????? Video
Liverpool SuperEnduro preview with Jonny Walker - Video
Fast Eddy in America Part 1 - Part 2 - Part 3
Urban Trials Riding Video
Tom Lister's Erzberg Video
1956 Checkoslovakian ISDT - Video
Johnny Walker in LA - Video
Dougie Lampkin at Red Bull - Video
Isle of Man TT - Video
Man and Machine Extreme Enduro Race, Hard Enduro Race (Part 1)
Video
Robbie Maddison jumps 278 feet over Corinth Canal in Greece Video
KTM Enduro Factory Team 2013 - A Story of Success Video
Mitch Harper - Australia's highest ranked privateer - Video
Robbie Maddison Jumps Arc De Triumphe, Las Vegas - Video
About
Enduro News was started in 1998 by Bob Mullins to promote the 1999 2nd round of the FIM World Enduro Championship held in Llandovery Enduro is the offroad motorcycle equivalent of car rallying. Riders follow a marked course & compete over timed stages. It requires the technical ability of Trials & the speed of Motocross. As well as the ATV machines made by Honda, Yamaha, Suzuki & Kawasaki there are specialists manufacturers such KTM, BMW, Husaberg, Husqvarna, GasGas, TM, Sherco & Aprilia. The machines require tough suspension & road legal Mx tyres. Tyre manufacturers such as Metzeler Maxxis Michelin & Pirelli sponsor the events. There is an aftermarket parts industry with Acerbis plastics, Renthal handlebars. FMF exhausts, The riding gear is also specially made by suppliers such as Sinisalo, No Fear, Thor, Scott, Oakley goggles, Fox, Alpinestar boots, Aria, Airoh helmets.
Enduro News is sponsored by CTR Events, D3 Racing, Dirtbike-Action, Dr.Shox Suspension, Eurotek, Evans Waterless Engine Coolant. Fast Eddy Racing, Edmondson Racing, Endurotyres, GBXC, Haines & Co., Husqvarna, Manchester Extreme, Midwest, Mounter Motorcycles, Paul Green Tyres. Pro-Racing, Race Spec, RideoffroadUk, Steve Plain MC, Taurustrax, TM Racing, TracknTrail, WOR Events
Enduro News received 1,137,088 hits in 2013

All content © Bob MuIIins
THE HAMSTERLEY ENDURO
7th SEPT - a round of the NEEC

- Details
Dayl Bolter
Crescent KTM Rider Profile
Daryl Bolter
With the motorsport summer break in full swing, Crescent Motorcycles is keeping you close to the action with a behind-the-scenes look at one of our KTM Enduro riders, Daryl Bolter… Details
RideOffroadUK
RideoffroadUK- Back on Track
31st Aug

ust

Perkins Slade Championship Rd6
RideoffroadUK are raising the bar at the Perkins Slade Championship Round 6 with a fresh, new, and more challenging course for riders to compete on at the awesome Pateley Bridge venue in North Yorkshire. Details
New Products
SURVIVA SCAN
Help when you can't help yourself
SURVIVA SCAN QR codes stick to your personal sporting equipment and when scanned by a smart phone or the address is typed into an address bar it links to your unique profile. This profile contains vital information for First Responders so that they can act quickly should they discover you following an accident. Details

Colwyn Bay KTM Team Tom Sagar & Brad Freeman mid season - UPDATE
David Knight

David Knight rides a charity event that at Doon Moto Park in Moate, Co. Offaly, Ireland in aid of Wings For Life.
WOR Events
WOR EVENTS
MICHELIN XCE SERIES 2014
Rd 3 @ Ruthin
Report by Keith Williams.
Pics CWL PHOTOGRAPHY
The old historic, fallen mansion at Llwyn Onn Hall, Near Ruthin in North Wales was last weekends setting for the latest WOR Events race production. This once a year, picturesque and very popular venue hosted the 3rd round of the Michelin XCE series, Details
France
Indoor enduro is on a roll!
The Fireball Motor Racing Team are organizing a "Sprint Enduro-Cross" in Lyon on March 14th and 15th, 2015 at EurExpo which will be accessible to all riders. Details
Fast Eddy Racing
Fast Eddy Racing Rock Oil XC
Rd.6 at Greenhall Farm Report Tim Tighe
Colwyn Bay KTM's Brad Freeman and Fast Eddy Racing's Jack Edmondson stole the show at Greenhall Farm last Sunday as the two youngster raced hard around a course which tested them both to the max. Details
rideoffroaduk
RideoffroadUK Crazy Busy End of August and September.
2014 Event Update
After taking a 4 week break from event commitments, Rideoffroaduk are now happy to release some amended details on events for August and September. Details
CTR Events
Tim Forman wins at Trecastle
The CTR Events Truffle Hound once again rooted out another tasty venue at Llywel

near Trecastle - on the edge of the Brecon Beacons

- for the 5th Round of their 2014 Summer Series Championship; Report -.Photos
Cotwolds EC
Cotswold Enduro Club at Selattyn
Club Championship Rock Oil H&H Championship Slow Pete Series
A monster of a course awaited riders at Cotswold Enduro Clubs meeting on Sunday for the Club Championship, Rock Oil H&H and Slow Pete combined event. Details
Jonny Walker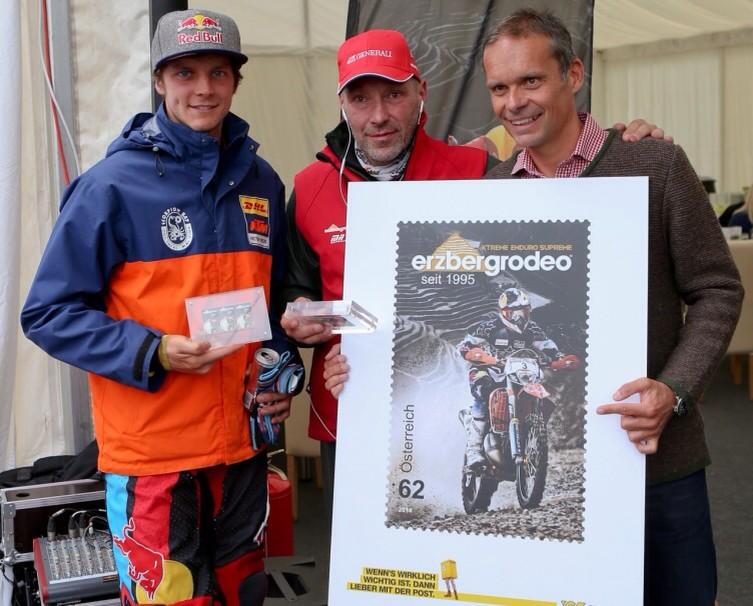 Walker's stamp of approval
Jonny Walker has been honoured by the Austrians with the printing of a special edition postage stamp.
Steph Jeavons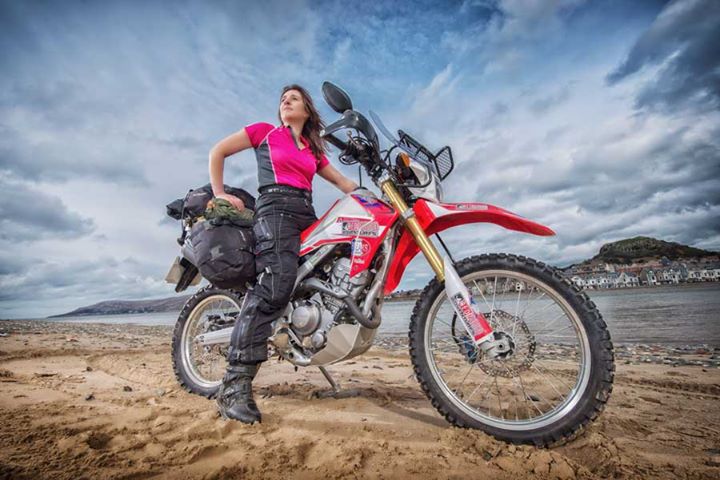 One Steph Beyond
Stephanie Jeavons from Colwyn Bay is on a mission to be the first Brit to solo circumnavigate the World on a bike and visit all 7 continents. She left the UK in February on her 250cc "Rhonda the Honda" and she is currently following the Thai-Burma border. Video diary - Donate
Steve Plain are now an official White Power Suspension Service Centre - Details
Fast Eddy Enduro-X
The third and final round of Fast Eddy's popular Enduro-X series on the evening of Saturday 23rd August at Eastern Old Parks farm nr Ashby, just across the road from Ashby Moto Park, and a Steady Eddy event on Sunday 24th August. For more information on entries to the Enduro-X, FED day or Steady Eddy event please call 01543 370070 or go online to www.fasteddyracing.com
August 23/24th - FIRBANK - LAKE DISTRICT -J nc 37 m6. RED SATURDAY - PUTOLINE HS RD 9 SUNDAY After the success of the WOR event at Firbank in early July the club are pleased to announce a 2nd visit there for the Bank Holiday weekend. The open moorland, fell side track served up a real treat for the riders last time out and with an even bigger and more flowing course planned for the RED and Putoline Hare Scrambles rd 9 on the Saturday and Sunday Bank Holiday weekend, the scene is set for some serious fun offroading on two wheels. As with all WOR Events, all are welcome, non members most welcome and the friendly atmosphere of the club and its helpers is always well received. Simply text or call 07803698061 or visit the events page Details.
24th August - The Big Reach James Wright memorial race at Bere Wood Charborough Park, Wareham , Dorset
Rogershill off road Events and the Wright family are happy to announce the James Wright memorial race will again take place at Charborough Park, for those of you that rode this venue 2 years ago, you know it is certainly like no other in this area, this is only the second and probably the last time we will be able to use this venue,it proved to be a proper Enduro but still enjoyable for more novice riders alike. The going will be mixed forest , with some going closely resembling the natterjack cross country,It will be a 3hr hare and hound with timing from PMCRC, 2 years ago this event was full with a waiting list, rider numbers are limited, this is a charity event with all profits going to The Royal Marines Charitable trust, Dorset and Somerset air ambulance and scotties little soldiers.2 yrs ago we raised over £5000! Entries must be in by 20th August , no late entries, all info regs etc and entries at www.pmcrc.org or call Danielle 07813105214
Entries are now starting to come in quickly for the forthcoming Rhayader 2 Day Enduro (a round of the 2014 ACU Edmondson Racing British Enduro Championships).
This will be held on Saturday/Sunday 30th/31st August & will start from the Clubs Cwmythig Hill circuit (see attached photo), near Rhayader, Mid Wales.
The club is busy preparing for this popular event last held back in 2006. The course will include forestry sections in nearby Waun, Red Lion, Cwmcynydd & Cwmysgawen Forests with special tests at Cwmythig (MX) & Saintswell (XC).
The club plans to reverse the course for the Sunday to keeps it as interesting as possible for the riders.
There are classes for Championship, Expert, Clubman, Veteran Over 40's, Veteran Over 50's, Ladies & Sportsman.
This is also a round of the ET James sponsored Welsh Enduro Championship. You don't have to ride both days, you can enter either day if you wish.
Riders are urged to enter soon to guarantee your ride
To enter, simply go to the club website - www.rdmcc.co.uk
RideoffroadUK- Back on Track
31st August
Perkins Slade Championship Rd6 - RideoffroadUK are raising the bar at the Perkins Slade Championship Round 6 with a fresh, new, and more challenging course for riders to compete on at the awesome Pateley Bridge venue in North Yorkshire. Details
Track n Trail Wickwar Free Ride 31st August
Track n Trail and our riders have been invited to run a second Enduro practice day at this fantastic track . This absolutely cracking venue has an incredible diverse mix of terrain including shallow stony stream beds and woodland areas which makes the track so exciting. It also incorporates a grassy, hilly old school motocross track with an abundance of character including natural jumps. This race track will stretch over 3 miles of stunning Gloucestershire countryside.
For some of our regular riders this track is a bit outside our usual area, but do not let this put you off as I can guarantee you that it is worth the journey. It's situated North of Bath, postcode GL12 8NS.
Please note payment will be taken on the day £30 members and £33 non members.
Run under ACU guidelines. Any tyre. Noise limit 94db
You can get a glimpse of what the track will be like here is the link: http://youtu.be/15MlYjkpdjM
To book a ride please go to events page at www.trackntrail.co.uk Any problems Text us "FREERIDE" with your Name, Date of Event and membership No if applicable to 07581143212 or email office@trackntrail.co.uk
Manchester17 Brinks Hare and Hounds August 31st.
The fast and flowing Peak District event. The course this year is over 8 miles of hills, gullies, sheep tracks, open blasts, boggy bits and the odd water splash. A venue that's used just once a year with some nice changes to keep it interesting for the regulars. Part of the NEEC XC this year so don't miss out on this hugely popular event. Regs on the club website or phone entries on 07546 847739 daytime only. Details
31st August - C.O.R.E 3 HOUR HARE AND HOUND - Bratton Court Bratton MINEHEAD Somerset TA24 8SL
CORE OFF-ROAD EVENTS are pleased to announce our next event has been confirmed for Sunday 31st AUGUST 2014 at the fantastic BRATTON near Minehead.
This is quite possibly one of the best enduro tracks in the south of England with 5-8 miles of flowing broadleaf woodland. This is the one to race. This venue was one of our busiest practice days and the race entries last year. Everyone loves Bratton VIDEO
Will be orange C.O.R.E signs out on the A39.- Entry

7th September - The Putoline Hamsterley Enduro - A round of the north of England enduro championship - After much hard work and endless negotiations with the forestry commission the Putoline Hamsterley enduro is set for the 7 September, the forest is sandy and pretty much bog free , it has some great flowing trails within the mature pines there is very little forest road work. The flat field parking is limited so a rider limit of 120 has been imposed. with the September Langdale enduro not running so for riders chasing points in Neec championship early entry is advised. Entries are open now Details
NATTERJACK 2014 UPDATE Ladies and Gents - Team REME has gone to great lengths to ensure this event runs, yes we have upset a lot of people and clubs in doing so, by changing dates etc. The date of 6th and 7th September has been set for a while now but it is looking like the Event will be cancelled this year due to low entries. Details
UPDATE We have now opened it to single day entries if the riders only want to ride one day.
The Central Wales Auto Club are holding the 4th Jacko Memorial Enduro on the 14th of September. This event will follow the same format as last year but this year it is also a round of the Welsh Sportsman and Welsh Sidecar championships.The course will be aimed at Clubman, Sportsman, Beginners & Over 40s although there will be classes for all including quads. The event will be held in Radnor Forest and will consist of a number of laps of approx 15 miles or so of green lanes, forestry roads and off road going and will be rideable for all classes. As this event is held solely in the forestry, machines will not have to be road legal! This is a charity event with a low entry fee which proved very popular last year.As an added bonus this year,before the event starts all riding numbers will be entered into a draw and one lucky rider will win a brand new helmet which has been kindly donated. The event is open to anybody 16 years old and over. Please contact 01547520524 or e mail phil@evans040.wanadoo.co.uk - Regs
The Vindurouk 5th Hot Trod Vintage Time card enduro weekend will run again on the 20/21st September .
The event takes place near Wooler in North Northumberland.
We cater for enduro bikes up to and including 1995 back to pre70s. Bikes must have lights fitted front and rear but do not need to be working. They must also be in the spirit of the day. All info can be found on the Vindurouk club webpage and forum. www.vindurouk.com The weekend will be two separate races with Saturday being a Hare & Hounds event using a course around 8 miles long. The Sundays Time card Enduro will be around 17 miles long and incorporate all types of going from tight woodland to open stubble fields, a few bogs and moorland to keep things interesting. Regs

The original Fast Eddy is back at Hawkstone Park.
4th and 5th October.
Some fifteen years after the initial Hawkstone Park Fast Eddy event, the first ever high-profile Hare and Hounds, Paul Edmondson returns to this iconic venue with spectacular plans to reset the bar in terms of showmanship.
A series of races will run throughout the weekend of October 4-5th, attracting many of the top names from the worlds of Motocross and Enduro. This really will be a Clash of the Titans in the Pro class with several top riders already confirmed to ride the event.
Paul Edmondson already has a number of events in mind and the weekend will include a FED day followed by the GBXC Sprint Nationals, Youth race, Steady Eddy and a return to the original Fast Eddy event to round off the weekend at this World-class venue where riders and spectators can enjoy the electric atmosphere that is sure to be present throughout the weekend.
Although the original Fast Eddy at Hawkstone was a memorable event Paul Edmondson now has fifteen more years of experience in running top-notch events, every ounce of which will be used to ensure that the 2014 outing will be one of the most memorable of all time with a return of the start-line girls, National anthem and several other surprises in store.
Entries open on August 1st and a significant discount is on offer for riders who enter before September 1st. Entry information will be posted on www.gbxc.co.uk and is also available by calling 01543 370070. Even though Hawkstone Park is possibly the highest profile venue in the UK, prices will, as with all Fast Eddy events, be very reasonable and affordable..
5TH OCTOBER ENDURO PRACTICE DAY AT COTTON FARM near Tiverton. Video We are lucky enough to be able to hold our 2nd event at Cotton Farm on Sunday 5th OCTOBER. More info (directions and how to pay, etc.) will be found HERE IN NEXT FEW WEEKS Entry is: £25.00 per RIDER PREBOOKED £30.00 ON THE DAY
Novice/Newbies – good news for the first hour between 8am – 9AM the track will be open and marshalled by experienced members allowing our newer, less experienced members to take to the trails without the worry of holding anyone up - Must be booked in Advance Look forward to receiving the rush of advance bookings over the coming weeks!! www.coreoffroadevents.co.uk

18/19th October - The Putoline Helmsley enduro weekend, Saturday is a vinduro and clubman , sportsman/beginners on modern machines time card event on a suitable course.
sunday is the final round of the North of England Enduro Championship , the dirtbike action crew have already started plotting the course with some fantasic new open going incorporated into the route , 2 special tests per lap , the going has no bogs or stoppers , camping welcome at the start area on good flat ground all classes sportsmen, clubmen. experts, championship enter online www.dirtbike-action.co.uk 07557665647
CLICK HERE FOR CALENDAR FOR FULL LISTINGS