About
Enduro News was started in 1998 by Bob Mullins to promote the 1999 2nd round of the FIM World Enduro Championship held in Llandovery Enduro is the offroad motorcycle equivalent of car rallying. Riders follow a marked course & compete over timed stages. It requires the technical ability of Trials & the speed of Motocross. As well as the ATV machines made by Honda, Yamaha, Suzuki & Kawasaki there are specialists manufacturers such KTM, BMW, Husaberg, Husqvarna, GasGas, TM, Sherco & Aprilia. The machines require tough suspension & road legal Mx tyres. Tyre manufacturers such as Metzeler Maxxis Michelin & Pirelli sponsor the events. There is an aftermarket parts industry with Acerbis plastics, Renthal handlebars. FMF exhausts, The riding gear is also specially made by suppliers such as Sinisalo, No Fear, Thor, Scott, Oakley goggles, Fox, Alpinestar boots, Aria, Airoh helmets.
Enduro News is sponsored by CTR Events, D3 Racing, Dirtbike-Action, Dr.Shox Suspension, Eurotek, Evans Waterless Engine Coolant. Fast Eddy Racing, Edmondson Racing, Endurotyres, GBXC, Haines & Co., Husqvarna, Manchester Extreme, Midwest, Mounter Motorcycles, Paul Green Tyres. Pro-Racing, Race Spec, RideoffroadUk, Steve Plain MC, Taurustrax, TM Racing, TracknTrail, WOR Events
Enduro News received 1,000,000+ hits in 2014

All content © Bob MuIIins
Husqvarna
Pela Renet - Defending the Enduro 2 World Championship title
We caught up with the defending Enduro 2 World Champion Pela Renet to learn more about what it means to be engaged in one of the most captivating E2 title fights of all time.
GBXC
David Knight wins blistering GBXC
Rogershill Raceway - 23/24th May
Fast Eddy Racing hosted the 2nd Round of their GBXC series at Rogershill Raceway on the Jurassic Coast of Dorset this weekend. There was no sign of the Ice Age as temperatures soared to 20 degrees. Details - Crash of the Day - Photos - Results Sprint - Steady Eddy - GBXC
WOR Events
WOR EVENTS WILDCARD HARE SCRAMBLE
MAY 24th 2015 @ MANOR PARK, WELSHPOOL.
Report Keith Williams
Manor Park, Nr Welshpool is one heck of a good venue and Michael Gorst and Ben Wootton put on one heck of a race to match it last Sunday at WOR' Events Wildcard Hare Scramble. Details - Results
CTR Events
Andy Gillett Wins CTR Summer Series Championship Round 3
at the awesome Trecastle South Venue
Andy Gillett was very impressive on his 2008 KX 250 2 stroke to eventually take to win at this fantastic CTR race venue with 5 miles of varied cross country Enduro going with fast flowing fields and big hills, Details - Photos - Video - Results
South Reading MCC
South Reading MCC
at Ashdown Farm Wally Searl Trophy 23-05-15
That Boy Jon Hunt again took the honours at The South Reading Wally Searl Trophy Hare n Hounds at Ashdown Farm in the beautiful settings of Oxfordshire,
Jack Lee kept Jon honest throughout the event but Jon had it all well under control and managed 12 laps with Jack runner up on 11 laps, Hayden Maller was 3rd, Paul Armstrong 4th, Stan Watt 5th, Rob Higgs (best clubman) 6th, Brad Armstrong 7th, James Giddings 8th, Dom Wilson 9th, Dan Brundell 10th and Dan Groom 11th. All 11 did 11 laps. Photos - Results
France

Trefle Lozerien
Antoine Meo won the Trefle Lozerien. Emmanuel Albepart was the runner up and Julien Gauthier was 3rd.
Rallying
Desafio Ruta 40 2015 Dakar Series Rd DS1 , Stage 5
Paulo Goncalves and Honda CRF450 RALLY dominate Ruta 40
Team HRC's Portuguese ace Paulo Goncalves has clinched overall victory in the Desafío Ruta 40. Goncalves and the other Honda CRF450 RALLY riders commanded the tough, lengthy and demanding rally throughout, winning four of the five stages. Details
CEC

Cotswold Enduro Club
AMCA Rock Oil Hare & Hounds and Club Championship Rd 4 at Clearwell near Monmouth.
At a new venue in ancient woodlands not far from Monmouth Matt Porter stole the show at Sunday's AMCA Rock Oil H&H, organised by Cotswold Enduro Club. Although Porter has an MX background his technical abilities were tested to the max in the tight and twisty woodlands. Details
GNCC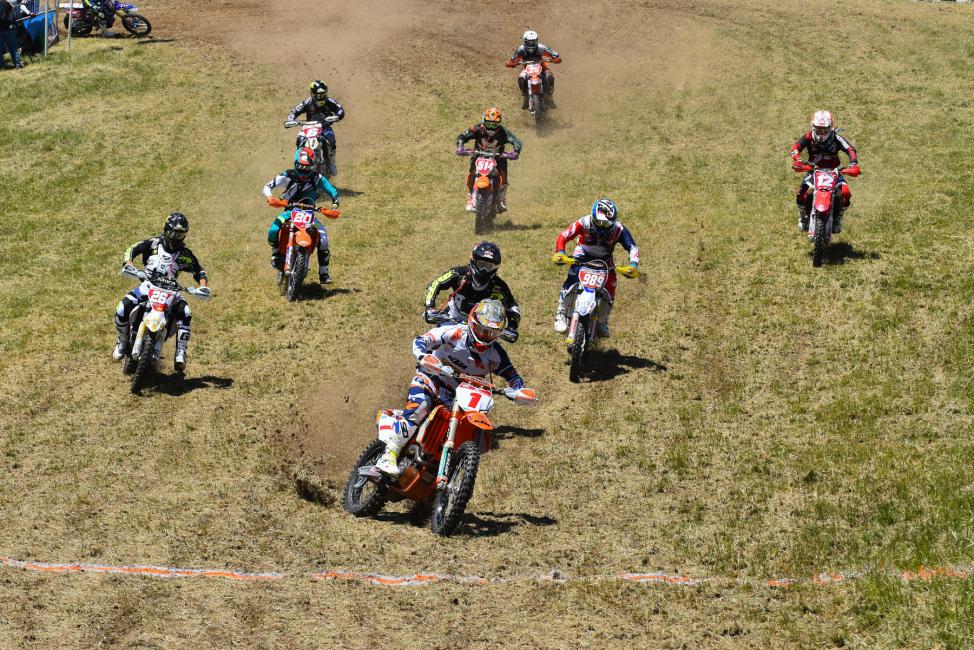 Kailub Russell Returns to Center of the Podium at Rocky Mountain
ATV/MC Mountaineer Run GNCC
Nick Davis Earns Second XC2 Pro Lites Win of the Season
Round seven of the 2015 AMSOIL Grand National Cross Country Series presented by Maxxis, an AMA National Championship took place at Marvin's Mountaintop in Masontown, West Virginia for the 4th annual Rocky Mountain ATV/MC Mountaineer Run GNCC. Details
RAW Enduro
Raw Enduro Championship
Round 4 - Pateley Bridge North Yorkshire
Report RAW Media – Images Nicky Morson
Nidderdale in North Yorkshire hosted Round 4 of the RAW Enduro Championship on May 17th. The picture postcard venue which overlooks Gouthwaite reservoir was the perfect setting for a great day of Enduro competition. Details
EWC
Mika Ahola Brave One Trophy
MEO resists…
The Iberian tour has offered two completely different Enduro Tests. From a special a bit slow in Jerez de la Frontera (Spain), riders went then in an Enduro Test much more fast and technical in Gouveia (Portugal).
Many of them lost valuable points while others have made a huge comeback on the actual leader Antoine MEO (F – KTM)…Details

Fun Weekend at H2O
Fast Eddy is putting on a great value fun weekend at the H2O enduro venue near Oswestry, postcode SY10 7PA, this coming weekend May 30th and 31st.
The weekend begins on Saturday with a FED practice day where riders can get bike time all day long for just £30.
The course is massive and has plenty of differing types of terrain. A huge MX course and plenty of enduro type sections and a woodland, which will all provide plenty of variety for riders. The weather and track conditions are greatly improved since the opening round of the GBXC, which was held there earlier this year.
Sunday sees a mix of practice and racing. The first practice session of the day is from 9.30-10.30am. This is followed by a two-hour race for all classes, from 11.00am to 1.00pm.
Practice continues from 1.30pm until 3.00pm. Cost for the whole day is just £40 making it very affordable for racing and practice combined.
Camping is available and there is a terrific flat paddock to set up on.
For more info or to book, please call 01543 370070 or go to www.fasteddyracing.com
Something new from WOR Events at BADEN HALL,MOTO DURO's on MAY 31st
On the weekend of May 30/31st WOR host a two day special events weekend at one of the their most popular venues, The Brilliant Baden Hall in Staffordshire.
The Saturday 30th will see the original RED fun day return to Baden Hall for the first time this year with unlimited track time and practice from 10am till 2pm followed by a fun 1 hr race session on the Saturday afternoon. As always the RED caters for the entire spectrum of skill levels and ages.
Then the Sunday May 31st, WOR's first Moto Duro day for a few years will offer 3 separate servings of fun. Welcoming Moto X riders into the event alongside the Enduro riders, the day will consist of, a Free 1.5hr open practice session and then 2 x 1hr moto duro races ...
From 10am till 11:30am there will be open practice and playtime session for all entered riders to have a go round the track and get themselves ready for the 2 x 1 hour races ..
The races will be 12 noon till 1pm and then 2pm till 3pm..
Both races will be individually scored and then put together to make the overall winners for the day...
WOR have never ran a moto duro style event at Baden Hall before and they are confident the venue will lend itself superbly to the format with its variety of terrain and open going coupled with some flowing in the trees action.
The moto duro course will not be a long 5 mile loop like the usual Hare Scrambles / Enduro loop we run but more like a 3.5 mile more open and flowing loop to suit the Moto Duro format.
All riders are welcome and the entry fee is £45 for members and £55 for non members, Great value for over 3.5 hrs on your bikes...
All solo classes are catered for including a new MOTO X class for riders that are not Hare Scrambles / Enduro riders.
Camping is most welcome FOC the day before and if riders wish to attend the RED fun day on the Saturday as well then the WOR team will offer a generous discount for riders doing both days.
Entries are open now online at the clubs website www.worevents.com or by calling or texting the event secretary on 07803698061.
Race Day at Tenko – The Ultimate Jungle Track, Sunday 31st May 2015 Nr Dorchester. Youth Hare & Hounds Start time: 1.5hrs 9:30am. Adult Hare & Hounds 2.5hrs start time-12:00pm. This is the first year we are going to allow any rear tyre but the tread depth must
be no more than 13mm deep. So enduro tyres comply but motor cross tyres must be worn down. Trials tyre is the tyre of choice, as it will give you the best grip at this circuit. Race entries are open. Tenko is a unique
track, you'll be ducking in and out of flowing woodland sections with sand, jumps and meandering paths. The gravelly and sandy terrain will make the track quite technical, so keep your wits about you. This track will be bigger and better than the previous track at our Freeride day, this time we are giving you the full track, only available once a year! We've tagged this track "The Ultimate Jungle Track" because it was used by the BBC to film the TV series Tenko back in the 80's as it looks similar to the Japanese jungle!
There is a YouTube clip from last year's Tenko up on our website. Check it out on our website. It's the second video on the rotator screen. Enjoy! Video Venue: Tenko Nr Dorchester, closest Post code is DT2 8BG. Youth – 1.5 hours hare and hounds –Sighting lap 9.00am Start Time – 9:30am. Adult - 2.5 hours hare and hounds – Sighting lap 11.30am Start Time – 12:00pm. Adult Race Entry is only £ 44 for members or £50 for Non Members including an ORPA day licence. Book on line now but pay on race day. Details
Sat 13th June - Track N Trail Enduro Training Academy level 1 - Only 10 places for Coaching Level 1 date
Join our Professional team of accredited ACU commercial coaches for a full day of training.
We can give you all the skills and knowledge you need to be quicker, faster and safer.
At the end of a training session your confidence and ability will have grown significantly.
Venue: Two Valleys Nr Dorchester,Postcode DT2 9HD Cost for the day is £ 75 Special Offer:- Riders can put into practice their new skills with a 50% discount on Sunday's Freeride only for riders who have attended this training academy.
Level 1 is aimed at beginners and any riders who would like to know more about the basic principles of riding an Enduro or MX bike. Using a combination of theory and practice following these objectives:
• To know all the basics for riding a motor cycle in a straight line when in both standing and sitting position.
• To use all motorcycle controls confidently and with ease to improve control of the bike
• To complete flat cornering successfully
• To feel confident in tackling off cambers
• To know how to recover from a fall
• To be able to tackle climbs and descents with confidence.
To find out more give Mike a ring or to book a place text Coaching and your name to 07581143212
Sunday 14th June.- Track n Trail Free Ride Two Valleys
Enduro practice on a 3 to 4 mile track set near the beautiful village of Winterbourne Abbas Nr Dorchester , the track uses some of the best parts of our very popular race track and includes some flowing grassy fields, a woodland section and a tight and twisty scramble track set on the side of a hill including jumps and a hard and easy route.
Noise limit 94 dB Any tyres Post code DT2 9HD
Time; 10 am to 3pm free riding, cost for the day is £32 for Members and £ 35 non members.
There will also be a youth beginner's track available. Cost £10 .
Track preview http://youtu.be/dMlQUxmyhPE
To enter please BOOK ONLINE
Run under ACU guidelines.
20/21st June - THE PUTOLINE K2 RALLY 20/21 JUNE BELLINGHAM
This year the rally undergoes its biggest change in 5 years , starting from the outskirts of Bellingham the rally heads out north through the forest of Wark to Falstones where is crosses the Kielder dam and continuing north towards the Scottish border it turns south and crosses back over the Kielder dam , the tracks and trails in this part of the forest are excellent with tight turns grassy lanes and should provide a great weekends riding.
Using the northern Falstone area of forest will add around 60% new riding keeping the rally fresh, as usual this rally offers traditional enduro loops which are optional for riders that want a challenge there is ample road time to try the enduro loops.
The start is from kielder organic meats farm just on the outskirts of Bellingham is a short walk to town which has pubs , petrol station, shops .
catering at the campsite is provided by kielder organics meats which is excellent using the finest organic products reared on the farm.
Entries are available from www.dirtbike-action.co.uk if you require more info email krwnmt@aol.com or text 07557665647
***NEW EVENT FOR 2015 ***
Saturday 29th August – Trevor Evans Memorial Enduro – starting from Home Farm, Abbeycwmhir, nr Rhayader, Mid-Wales. Start 11.00am
In memory of the late Trevor Evans (ex British Sidecar Enduro Champion & Rhayader Motor Club committee member).
Raising money for local cancer charity (Bracken Trust)
Classes for – Solo's (Championship, Experts, Clubman, Veteran Over 40's, Veteran Over 50's, Sportsman), & Sidecars (Championship, Expert & Clubman).
The lap will be approx. 20 miles of good forestry tracks (suited for Clubman/Sportsman level riders).
The Special Test will be at the Start/Finish area (along with "re-fuelling").
"Presentation of Awards" will follow in the Marquee (with licensed bar), along with live singing & music.
Awards to top 3 in each class. Transponder Timing. Overnight camping welcome.
Don't miss out on the action!!
For further details check out the Clubs website – www.rdmcc.co.uk - Online Entries - Entry forms
CLICK HERE FOR CALENDAR FOR FULL LISTINGS