2018 KTM'S
01443 400960

Rock Oil R2
March 24/25th
Ripon HG4 3JZ

0161 483 5559

Enduro Practice

MX and Enduro Practice Tracks in North East Lincolnshire
Open weekends
Tel 07435 973610 More

7th/8th July - RYEDALE RALLY 2018
The Yorkshire Enduro Club 2 Day Ryedale Rally. A round of the ATRC championship. The event starts at West Ayton near Scarborough. It will be an enjoyable 250 miles of forest tracks, moorland trails, tricky twisty bits in the woods and quiet country roads through beautiful countryside, Details
About
Enduro News was started in 1998 by Bob Mullins to promote the 1999 2nd round of the FIM World Enduro Championship held in Llandovery Enduro is the offroad motorcycle equivalent of car rallying. Riders follow a marked course & compete over timed stages. It requires the technical ability of Trials & the speed of Motocross. As well as the ATV machines made by Honda, Yamaha, Suzuki & Kawasaki there are specialists manufacturers such KTM, BMW, Husaberg, Husqvarna, GasGas, TM, Sherco & Aprilia. The machines require tough suspension & road legal Mx tyres. Tyre manufacturers such as Metzeler Maxxis Michelin & Pirelli sponsor the events. There is an aftermarket parts industry with Acerbis plastics, Renthal handlebars. FMF exhausts, The riding gear is also specially made by suppliers such as Sinisalo, No Fear, Thor, Scott, Oakley goggles, Fox, Alpinestar boots, Aria, Airoh helmets.
Enduro News is sponsored by CTR Events, D3 Racing, Dirtbike-Action, Dr.Shox Suspension, Eurotek, Fast Eddy Racing, Endurotyres, GBXC, Husqvarna, Husky Sport, Manchester Extreme, Mounter Motorcycles, MRS, Offroad Orange, Paul Green Tyres. Pro-Racing, Raw Events, Steve Plain MC, TracknTrail, WOR Events
GNCC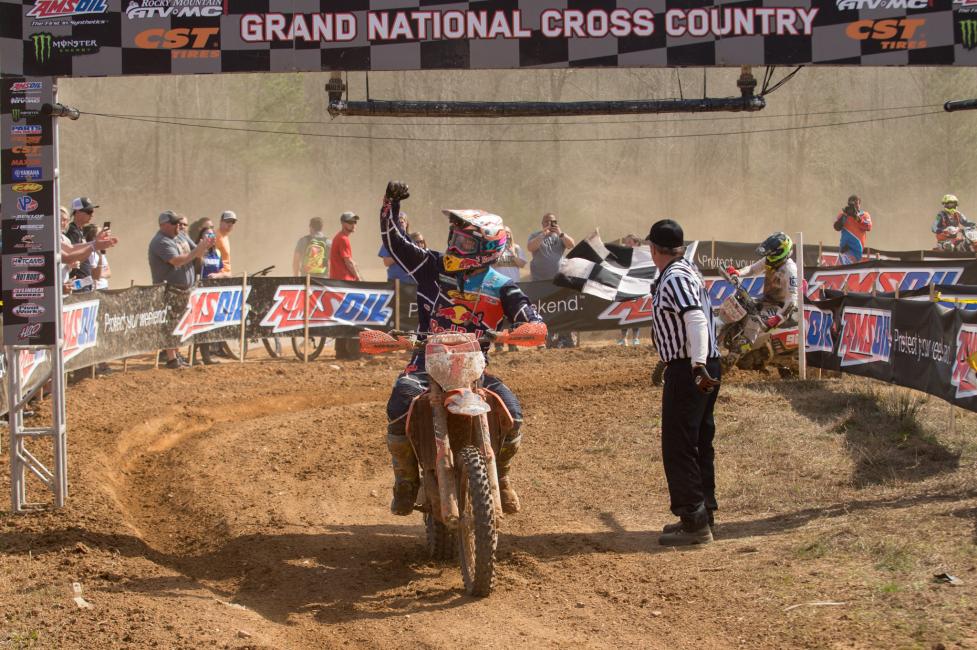 Kailub Russell and Thad Duvall Battle at The Maxxis General GNCC
Ben Kelley Earns Second-Straigh XC2 250 Pro Class Win
Round three of the 2018 Grand National Cross Country (GNCC) Series, an AMA National Championship took place in Washington, Georgia at Aonia Pass MX on Sunday, March 18. Details
Newsroom
Toni Bou secures 12th X-Trial title 25 days after breaking 3 vertebrae - Video
Lincoln Enduro Club "non race" report - Details
GasGas makes history in the United States with its first podium in the GNCC - Details
Pablo Quintanilla set to kick off Rally Season at Abu Dhabi - Details
DirtBike-Action
ROUND 1 NEXC - TONG XC 18 MARCH
SUPPORTED BY PUTOLINE & EUROTEK
Home win for Will Hoare
The everlasting winter decided on a weekend of snow for the opening round of the 2018 NEXC at 'Tong ' Parkwood off road centre Bradford. With bad weather in mind Event director John Kerwin set out a course that would provide a good race and yet remain rideable. Details
Newsroom
Alex Niocara will compete in his first King Of The Hill Hard Enduro under Sherco Banner this coming weekend ! Video
2018 FIM ISDE in Chile -

12th to 17th November

Teams' Riders' Info Guide. 2018 - Video
WOR Events
.

WOR EVENTS PUTOLINE NATIONAL HARE SCRAMBLES RD 1 2018 - BADEN HALL / STAFFS / MARCH 18th
"All in a Knight's WOR-k"
Report: K. Williams - Pics by AJ PHOTOGRAPHY
RESULTS SOLO - QUADS - VIDEO - PHOTOS
"The 2018 Putoline National Hare Scrambles started last Sunday for both solos and quads as WOR Events kicked off their spring and summer campaign in …You guessed it… Snow and freezing artic conditions! Details
Enduro GP
Round 1 of the 2018 World Enduro Championship in Finland
Don't mess with the Finn!
The winter is long in Finland... since late November, the cold and the snow has taken hold of this Scandinavian country. Six months later, this cold snap seems never-ending. Reports DAY1 - DAY 2 - Steve Holcombe - Danny McCanney - Jamie McCanney - Results DAY1 - DAY2 - Video - DAY1 - DAY2
Newsroom
Bill Kershaw 1925 - 2018 by Geoff Thomas
William H "Bill" Kershaw was born in Birmingham in the 1920s into a motorcycling family and in a full life he became a champion of the rights of offroaders. Details
Newsroom
William Hoare wins Tong XC - Results
Eddy's Xtreme Rd3 at H2O on 25th March - Entry List
Chris Hockey Training School - Photos
Team/riders guide to the 2018 ISDE in Chile - Details
Team TM Xcentric France - Vtdeo
German Hard Enduro Rider Profiles - Part 1
Jack Frost Enduro - Rhayader - 25th March - Programme
RAW Events
RAW Fun
Wayne Braybrook and his mates buzz Colin Appleyard.
Frank Morgan
1997 Melville Enduro
Frank Morgan reminds us of the tough 3rd round of the 1997 British Enduro Championship when 140 starters were ground down to 38 finishers.
Fast Eddy Racing
The 2018 Eddy's X-treme Championship
Round 3
The 3rd Round of the 2018 Eddy's X-treme Championship heads to H2O, Selattyn, near Oswestry, SY10 7PA on March 25th
Entry Form

DrShox 1 or 2 DAY
ENDURO SCHOOLS


FINANCE AVAILABLE - Subject to status

A TOTAL RENEWAL OF THE BRAND FOR ENDURO - Details

Featured Events

The 2018 Eddy's X-treme Championship
Round 3
The 3rd Round of the 2018 Eddy's X-treme Championship heads to H2O, Selattyn, near Oswestry, SY10 7PA on March 25th
Entry Form

Rock Oil Championship R2 Ellington Banks Ripon March 25th
The Superb Ellington Banks MOD training area near Ripon in North Yorkshire is set to host Round 2 of the Rock Oil Championship on March 25th. Boasting hard standing paddock areas, a course which caters for all ability levels over three races on the day, and using some of the best quality fully graded terrain that North Yorkshire has to offer, RAW Enduro are set for another first class event in a very central location.
Clerk of the course Wayne Braybrook will be running a 60/40 Split course, 60% will be woodland and forest fire road based track, the inclusion of some brand new fire breaks in an unused wood will add another new feel to the track. Then 40% will be in the undulating driver training areas close to the paddock and pits for great spectator viewing. With riders only dropping one round from the 10 Round Championship this year, Ripon is set to be a favourite amongst competitors who are looking for a strong Championship season with RAW Enduro.
The paddock is situated around two miles from Ripon centre, sat Nav Postcode of HG4 3JZ gets you on the right road, Ellington Banks training area is well signed from the main road near Sutton Grange. Saturday there will be a Pay and Play practice session running 9am to 1.30pm for those who like the non competitive side of enduro riding.
ALL Litter MUST be taken home, please don't just drop it on the ground in the paddock or as you leave the area. Camping from Saturday 12:00 noon only on this race weekend. Toilets and our usual top class catering company unit will be onsite to keep everyone fed and watered on the day.
To get entered riders can send a text to 07802 572023. Information needed is NAME; CLASS, RACE NUMBER, AND LICENCE NUMBER or Day licence is available at a cost of £5.
Online Entries (FASTRACK Sign On) CLICK HERE
2018 RAW club membership subscriptions can be taken on the day by event staff. Remember registered Club members get £10 off every race entry, and only RAW members are eligible to score points.
For more info see the Raw Enduro Face book page or visit www.rawenduro.co.uk

The SEEC (South East Enduro Combine) Hare & Hounds Championship gets off to a fast start with Normandy MCC at Cannons Hill Raceway, Binstead, nr Alton on the 25th March.
A mixture of old school MX track, fields, stream and logs provide great riding to get the Championship going.
Join SEEC regulars by entering via www.ride-acu.uk (max 120)
View last years event Video
More SEEC events can be found at https://seecenduro.co.uk