01443 400960

June 3/4th Ripon
Sat RAW4 Quad R3
Sun 5 Hour Team Enduro

0161 483 5559

01423 772885

Enduro Practice
About
Enduro News was started in 1998 by Bob Mullins to promote the 1999 2nd round of the FIM World Enduro Championship held in Llandovery Enduro is the offroad motorcycle equivalent of car rallying. Riders follow a marked course & compete over timed stages. It requires the technical ability of Trials & the speed of Motocross. As well as the ATV machines made by Honda, Yamaha, Suzuki & Kawasaki there are specialists manufacturers such KTM, BMW, Husaberg, Husqvarna, GasGas, TM, Sherco & Aprilia. The machines require tough suspension & road legal Mx tyres. Tyre manufacturers such as Metzeler Maxxis Michelin & Pirelli sponsor the events. There is an aftermarket parts industry with Acerbis plastics, Renthal handlebars. FMF exhausts, The riding gear is also specially made by suppliers such as Sinisalo, No Fear, Thor, Scott, Oakley goggles, Fox, Alpinestar boots, Aria, Airoh helmets.
Enduro News is sponsored by CTR Events, D3 Racing, Dirtbike-Action, Dr.Shox Suspension, Eurotek, Fast Eddy Racing, Endurotyres, GBXC, Husqvarna, Husky Sport, Manchester Extreme, Mounter Motorcycles, MRS, Offroad Orange, Paul Green Tyres. Pro-Racing, Raw Events, Steve Plain MC, TracknTrail, WOR Events

All content © Bob MuIIins
Events
Search
Photos
Bikes for Sale
Contact
Fast Eddy Racing
2017 ACU British Sprint Championship
Rds 1&2 Rgers Hill Raceway, Dorset
Report & Photos Tim & Tilde Tighe
Buildbase Honda Racing pilot Alex Snow announced his arrival at the 2017 ACU British Sprint Championship by taking the win on both days as the series kicked off in Dorset last weekend. Calm and consistent, he emerged victorious as his two closest rivals both retired with injuries by the end of Saturday. Details Results Day1 - Day2
Newsroom
Provisional results of the Caio Enduro - Results
Price wins RT Keedwell Trials Championship at the St David's - Details
AMA announces 2017 ISDE Club Team Racers - Details
Recap of the French Enduro Championship at Gace - Details
EnduroGP
PHILLIPS aiming for Italian EnduroGP win
Sherco's Matthew PHILLIPS leads the way as the third round of the Maxxis FIM EnduroGP World Championship heads to Italy. This weekend, the stars of the Maxxis FIM EnduroGP World Championship are heading to Italy and more particularly in Spoleto, for the third round of the season 2017. Details
Jason Thomas
GOLDEN WEEKEND TO REMEMBER FOR PALMER MOTORSPORTS JASON THOMAS!!
Report Jeremy Thomas Photos Ken Hill
There are memorable event's in a Racer's career which, when new season's have come & gone, become legends recounted around a table in the snug on a Winter's evening. For Jason Thomas, this past weekend's activities will surely be one of them. Following the re-scheduling of the GNCC Championship round 6, Thomas hatched a plan to combine two races in different States over one grueling weekend. Details
Dyfed Dirt Bike Club

Jamie Lewis wins the Caio
Photo Gary Jones
Dyfed Dirt Bike Club hosted their popular Caio Enduro this weekend in Mid Wales. The event was Round 4 of the ET James Welsh Motorcycle Federation Solo Enduro Championship - British Side Car Round, British Solo Classic Round. Details - Results
Frank Morgan Films
Paul Edmondson on a Kawasaki
Frank Morgan filmed Paul Edmondson riding a Kawasaki in 2000
GNCC
Duvall Earns First Victory of 2017 Season at X-Factor GNCC
Zach Nolan Wins First XC2 250 Pro Race of 2017
After several days of rainfall in Peru, Indiana the 2017 AMSOIL Grand National Cross Country (GNCC) Series presented by Maxxis, an AMA National Championship, continued today, May 21, with the inaugural X-Factor GNCC. For the first time since 2013's Mammoth GNCC, Racer Productions made the decision to combine the morning amateur race with the afternoon pro race. Details
RedBull Minas Riders
Graham Jarvis wins 2017 Minas Riders
Alfredo Gomez won a wet Prologue to the 2017 Red Bull Minas Riders in Brazil but Graham Jarvis won the opening day. Rookie Cody Webb was runner up and Gomez was 3rd. Philipp Scholz was 4th and Paul Bolton was 5th. On Day 2 Cody Webb set the fastest time but Graham Jarvis held onto a 1'46" lead. Details Videos Prologue - Day 1 - Day 1 (raw) - Day 2 The event has been stopped.
Enduro Bootcamp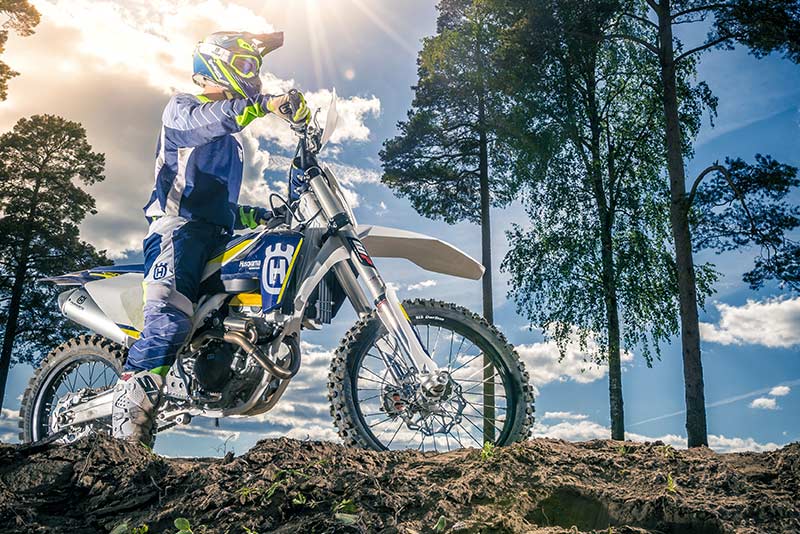 Enduro Bootcamp Summer Dates
If you want to test a new husky absolutely free or fancy learning some new riding tips and tricks!!? New Enduro Bootcamp Dates 27/28th May at Butley 10/11th June in Wales (Welsh 2 Day Practice}. 15/16th July at Butley... Then Winter Bootcamps start in October!! Get booked in fast limited spaces. 4 great tracks, 6 instructors, max 20 places, Tryout new Husqvarna Enduro bikes, Camping available on site, Free BBQ, optional evening cycle ride... Details
Italy
Maxxis Italian Enduro Championship 2017 Under 23 / Senior
Jonathan Manzi is the first Italian champion 2017
With a round to spare the Team Yamaha Mile Bergamo rider Jonathan Manzi won the 2017 national title of the Senior E1 4T class thanks to today's victory, and the fourth place of his closest rival Omar Chiatti, Details
Rallying
Himoinsa Racing Team sets off towards Greece
Without barely any rest after Merzouga Rally, the HIMOINSA Team shifts from the desert's dunes to the intricate mountains of the Hellas Rally, which will take place in Greece from May 21st to 28th. Details
RAW Events
Hare & Hounds Championship R4
Burt, Sam, and Joe Fire Shots at Westwood.
Report: Imprint Media Images: Becky's Enduro Snaps
Westwood is a well known venue close to Sheffield which gets a fair amount of enduro riding action. In the week leading up to the event RAW Enduro graded lots of tracks and cut in some nice new loops for round 4 of the Rock Oil Championship, these changes were well received as the short but technical lap kept riders skill levels on high alert during all three races on the day. Details
British Enduro Championship
Brad Freeman doubles Helmsley
13th/14th May Photo Garry Barnes
After a very successful opening round in Scotland the 2017 ACU British Enduro Championship headed to the picturesque market town of Helmsley, North Yorkshire for this weekend's Putoline Yorshire 2 Day Enduro. Details - Results - Photos
Day 1
Day 2
Colton Haaker
Colton Haaker's Hacienda
Spend a typical morning with Colton Haaker as he bounces back and forth from his 250 2-stroke and 350 4stroke Endurocross race bike on his back yard EX track...
Sudbury MCC
SUDBURY MOTOR CYCLE CLUB
EVENT REPORT 14-05-2017
Incorporated in the previous week's ACU Eastern Solo Enduro Championship at Foxborough Quarry Sible Hedingham was a one hour Hare and Hounds race for 12-16 year olds. The Sudbury Motor Cycle Club wants to promote events for these youngsters who ride elsewhere outside of East Anglia and there are other youths under the age of 12 riding regularly. Details
Kenda Full Gas
2017 Full Gas 3-Day Enduro & ISDE Qualifier Highlights
Rockstar Energy Husqvarna Factory Racing's Thad DuVall took home top honors at this weekend's KENDA Full Gas Three Day Enduro presented by Moose Racing, in Greeneville, Tennessee – the final round of the 2017 AMA ISDE Qualifier Series, and the last chance for riders to qualify for club teams competing in this year's ISDE in France.
KTM
KTM UNVEILS WORLD'S FIRST 2-STROKE FUEL INJECTION ENDURO MACHINES
Following on from the lighter, stronger and faster all-new generation of EXC released last year, which saw the launch of a full range of Enduro models that had been re-designed from the ground up, Details

DrShox 1 or 2 DAY
ENDURO SCHOOLS
Triple-D Motorsport

01539 732666

26th & 27th August - Glyneath

FINANCE AVAILABLE
Subject to status

2018 Gas Gas
EC 300
Demo available at Steve Plain Motorcycles
Please ring 01597 825817 to book.


The " Pheonix " Project
Featured Events

Graythwaite - 27/28th May. The Dirtbike action team have been hard at work putting in the final preparations for the may bank holiday weekends Graythwaite Enduro ,the event is a traditional north of England time card event with challenging climbs and descents , we have found new going to add to last years brilliant event , camping starts on Friday , same grass field as last year , with the special test at the top end of the field , the 2 day entry fee has been held at a special £100, while 1 day entries are £65 you can rider either Saturday or Sunday to enter Click HERE

28th May - Tenko- THE ULTIMATE JUNGLE TRACK
Track N Trail Enduro Freeride
Tenko is in pristine condition! Straight after the last event the team re-graded the whole track with diggers and graders widening and levelling it. The outcome is no ruts or bumps and a much wider track with lots of overtaking lines for your enjoyment!
This track is known by many of you as the "Ultimate Jungle Track". You will ride though flowing woodland with jumps and sandy terrain that is similar to the Japanese Jungle. Gravelly and sandy terrain makes the track quite technical, so keep your wits about you. We've tagged this track "The Ultimate Jungle Track" because it was used by the BBC to film the TV series Tenko back in the 80's as it looks so similar to the Japanese jungle!
Here is a great Drone video clip from Neil Wilkinson. https://vimeo.com/124842648
There's a YouTube clip on our website homepage which you can check out. It's the second video on the rotator screen. Or via this link: https://youtu.be/XAU5NKYgg3Q
Payment is on the day. Members pay £33. Non Members pay £36
Payment is on the day.
Starts 10am finishes 3pm.
Venue: Tenko Nr Dorchester, closest Post code is DT2 8BG
Any tyre. Noise limit 94db.
This venue should prove very popular so please book up now. Adult practice ( over 14's only) plus a youth beginner's auto track, Youth beginners track £ 10
To Sign up Click HERE
Thanks for your support. Mike


Rhayader MC ISDE Fundraiser
Evening Hare 'n Hounds
Wednesday Evening 31st May - Start: 7.00pm
Classes for: Expert, Clubman, Over 40's,
Over 50's, Sportsman & Sidecars.
Online Entries
For further details – www.rdmcc.co.uk

RAW4 Quad Series Round 3 Saturday
June 3rd
5 Hour Two Man RAW Enduro Challenge Solo & Two Man Relay
Sunday June 4th
Ellington Banks Ripon HG4 3JZ
After a great Start to the 2017 2 Man Challenge series at Butts Quarry in April, Round two of the RAW Enduro challenge series increases in difficulty by way of the 5 hour event duration. Details

Blackheath Autosports
Dates are out on the events page. All Moto Duro format which includes a new venue for the club, a three round to count championship focussed for clubman and sportsman riders. A memorial meeting for ex chairman Frank Hipkin will finish off the year. Details