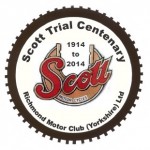 Walker Competes In 100th Anniversary Scott Trial
Jonny Walker took time out from his extreme enduro schedule last weekend to compete in the 100th anniversary Scott Trial . an event considered by many to be the hardest trial in the world. Centred around the village of Reeth in North Yorkshire, England, the 90--Ā]mile off--Ā]road course featured 76 sections, all of which against the clock.
Opting to go back to the discipline he regularly competed in before turning his attentions to enduro and extreme enduro, Jonny knew that due to his relative lack of preparation his participation would be more about enjoyment and training than getting a result Jonny's focus was simply to enjoy the event, do as well as he could, while riding with friends. The Scott Trial is similar to extreme enduro due to the very tough, and long course. Riders compete against the clock while also having to ĀepreserveĀf both themselves and their machine in order to reach the finish.
Jonny started the event 20 seconds behind fellow Red Bull athlete and 2013 winner Dougie Lampkin. As planned he followed Dougie almost the entire distance . benefiting from his experience and watching Dougie go through each section before him. Generally things went well for Jonny, who thoroughly enjoyed being back on a trials bike again.
Frustratingly, in the 72nd section and about three miles from home Jonny's bike finally cried enough and stopped. In typical never give up style Jonny opted to push his bike to the finish, which took him over 60 minutes. Incurring extra course time, as well as having fived the final four sections Jonny still placed a creditable 25th out of the 200 starters.
Jonny Walker: Before the event started I didn't have any great expectations. I just wanted to enjoy the trial and improve my skills. After a few years out of the game I felt a bit rusty in practice before the event but during the trial I was very happy with the way I rode. It was great to follow Dougie Lampkin and pick up some of his lines. I was riding quite steadily between the sections, as I just wanted to finish. But I lost water from the bike's cooling system and it overheated and stopped. The last hour, pushing the bike, was obviously bloody hard work. The bike wasn't the only thing boiling by the time I did get to the finish! Thankfully my trials bike is much lighter than my enduro bike. I guess it was good training, even if it didn't feel like it at the time. But I got to the finish and earned a Scott Silver Spoon award, so it was worth the effort.
---
Walker Takes Second At Red Bull Sea to Sky
KTM Enduro Factory Racing team rider Jonny Walker has finished as runner-up to countryman Graham Jarvis at the 2014 edition of the Red Bull Sea to Sky event in Kemer, Turkey.
Entering the race as the defending champion, and hoping to claim his third consecutive Hard Enduro victory, Walker got his three-day race off to a strong start by placing second in Fridayís Beach Race. Pushing hard during Saturdayís Forest Race, Walker lost out on the win by the narrowest of margins. 100 per cent committed to the 55-kilometre long time trial, he stopped the clock just 17 seconds shy of the winning time.
But with second position more than enough for an all-important front start for Sundayís Mountain Race, Walker immediately slotted into the top three. Taking control of the race lead as riders entered the first technical riverbed section, the KTM rider tried to break away from the field. But with close rival Graham Jarvis chasing him hard, Walker didnít have an easy time of things. Battling back and forth, Jonny eventually gave way to Jarvis as they entered the latter stages of the race before crossing the mountain top finish line in second.
Jonny Walker: ďItís disappointing to have lost out on the win. But I gave it everything I had. I rode well during both the Beach Race and Forest Race but a couple of small mistakes held me back. With a front row start for the main event I knew I could put myself in a strong position to challenge for the win. I managed to get into the lead during the first riverbed and rode hard. I felt like I was riding great Ė not really making any mistakes Ė but Graham was steadily gaining on me. To be honest, hats off to him Ė he was riding well. We rode together for a while but on one of the uphill switchbacks I had a small crash. I lost touch with him and his pace was too strong too reel him back in. Having won Erzberg and Romaniacs I really wanted to get three-in-a-row here, but it wasnít to be.Ē
Results Ė Red Bull Sea to Sky
1. Graham Jarvis (Husqvarna); 2. Jonny Walker (KTM); 3. Andreas Lettenbichler (KTM); 4. Wade Young (KTM); 5. Paul Bolton (KTM); 6. Taylor Robert (KTM); 7. Travis Teasdale (KTM); 8. Blake Gutzeit (Husqvarna); 9. Dougie Lampkin (KTM); 10. Alfredo Gomez (Husqvarna)Ö
---
Runner-Up Result For Walker At Red Bull 111 Megawatt
KTMís Jonny Walker secured an incredibly close fought runner-up result at the all-new Red Bull 111 Megawatt event in Poland.
Hoping to keep his Hard Enduro winning streak alive, Walker, the 2014 Erzberg and Romaniacs winner, was forced to settle for second at the Red Bull 111 Megawatt at the Belchatow Lignite Mine, placing just seconds behind eventual winner Taddy Blazusiak.
A new event on the Hard Enduro calendar, Walker got his participation in the event off to a perfect start by topping the field of 500 riders in Saturdayís qualification. Setting a blisteringly fast run, Walker claimed the pole position by almost six seconds.
With closest rival Taddy Blazusiak taking the holeshot in Sundayís main race of three 15-kilometre-long laps, Walker immediately slotted in behind his teammate. Applying the pressure, the duo broke away from the pack as they battled it out for the top spot.
Leading throughout lap two, Walker saw his advantage disappear when he pitted for fuel. Chasing Blazusiak down Jonny attacked hard in the dying moments of the race hoping to snatch victory away from the Pole. Unable to make a pass stick, Walker crossed the finish line in Blazusiakís wheel tracks to place second.
Walker now looks to defend his title at the Red Bull Sea to Sky event in Kemer, Turkey on September 26-28.
Jonny Walker: ďI really wanted to win but unfortunately I just didnít get it done, despite my best effort. This was the first time for the Red Bull 111 Megawatt so I wasnít sure what to expect. The track was really fast, mainly sandy and not massively technical so we had to make a few bike adjustments to find a setup that would suit. Topping the qualification put me in a confident mood for Sundayís race but this was Taddyís event, and on his home turf, so I knew heíd come out swinging on race day. Taddy took the holeshot so I tucked in behind him and applied the pressure while trying to pick up a few lines. That first lap was crazy. We just hit things flat out Ė blind drops, ditches Ė we were nailing everything. He surprised me by pitting for fuel at the end of lap one. I continued on and tried to take advantage but with 500 riders on the track there was a lot of lapped traffic to deal with. After my pit stop we were neck and neck for the final lap. I attacked and attacked but Taddy had me covered and I finished second. I enjoyed it. The track was fun, the amount of spectators watching was insane. Iím glad we could put on a good show for those guys.Ē
Results Ė Red Bull 111 Megawatt 1. Taddy Blazusiak (KTM); 2. Jonny Walker (KTM); 3. Andreas Lettenbichler (KTM)Ö
Photo Credit: Red Bull Content Pool
---
Jonny Walker - Red Bull Romaniacs Winner 2014
KTM's Jonny Walker has claimed a second consecutive international Hard Enduro victory in 2014 following a winning performance at Red Bull Romaniacs. Making his third appearance at the Sibiu based event, Walker delivered five impressive performances en route to becoming the youngest ever Romaniacs winner.
Experiencing the highs and lows of Romanics during his first two outings in 2012 and 2013, for 2014 Walker was confident of success. Going head-to-head with Romaniacs' most successful ever rider Graham Jarvis, Jonny opted to make a calculated start to this year's event. Instead of gunning for the win in the City Prologue he instead settled for a third place result.
During the four full days of competition Walker secured two important victories - on days one and three - as well as claiming two runner-up finishes on days two and four, despite drowning his bike on day two.
Starting the fourth and final day as race leader Jonny did exactly what he needed to do and remained ahead of Graham Jarvis. After more than 20 hours of racing Jonny secured his first Red Bull Romaniacs victory.
Jonny Walker – Red Bull Romaniacs 2014 winner:
"I'm so pleased to have won Romaniacs. After winning at Erzberg I really wanted to keep things going well, and I knew that beating Graham here wasn't going to be easy. But that's what I focused on and worked hard to do. And it's happened, I'm so, so happy.
"Romaniacs is a race you have to learn, and the last two years were all about learning really. I had some good days but also some bad days, but more than anything I worked out what the race is about and what you need to do to be properly prepared for it."
"I didn't push too hard on the prologue simply because I didn't want to make any mistakes that might mess things up. The first full day went really well, and was a great start to the event. I wanted to try and push hard again on day two, but I ended up drowning my bike, which wasn't ideal. I just dropped into a part of a small river that was a lot deeper than I was expecting. I had to pump the water out of my motor, which cost me some time, but I still managed to get a good result at the end of what was a bit of a bad day."
"I don't know why but I just wasn't riding well during day three. I caught Graham but I just didn't feel good at all. On the last day I knew that if I rode well I'd be able to pull time on Graham, and I felt good. I was pretty confident that things were going the way I needed them to, although I got lost a few times later on in the day so I did get a little worried a few times."
"To finally get to the finish knowing that the race was won is an amazing feeling. Romaniacs wears you down day-after-day but winning is a great feeling. The race couldn't be more different to Erzberg, and to have won both races this year means a lot. I have to thank Seb my mechanic, all the guys at KTM and all of my sponsors – winning races like Romaniacs is a real team effort."
Results - Romaniacs 2014 (Overall Gold class)
1. Jonny Walker (KTM): 2. Graham Jarvis (Husqvarna); 3. Wade Young (KTM); 4. Paul Bolton (KTM); 5. Andreas Lettenbichler (KTM)
---
Runner-Up Result For Walker At Hard Enduro Piatra Neamt
KTM Enduro Factory rider Jonny Walker claimed a positive runner-up result at the Hard Enduro Piatra Neamt in Romania, round two of the European Extreme Enduro Championship.
Fresh off his dominating win in the Red Bull Hare Scramble at Erzberg, Walker arrived in Romania eager to continue his winning ways. With the race staged over three days Walker got off to a flying start by securing a convincing win in the event opening prologue.
But with the prologue results determining the starting order for day one, Walker was faced with the difficult task of leading the field of riders out into the Romanian countryside. Navigation was difficult and with few tracks to follow Walker lost his way several times, allowing close rivals Graham Jarvis and Alfredo Gomez to close in. Ending his day third his result ultimately cost him a chance of the overall win.
Determined to make amends Ė and helped by starting third on day two Ė Walker quickly reeled in both Jarvis and Gomez, who started ahead of him, to win day two. But with the duo following Walker closely he was unable to pull away sufficiently to secure the outright victory. Nevertheless he secured a strong runner-up result.
Jonny Walker: ďOverall itís been an enjoyable race. For my first time at the HEPN I wasnít sure what to expect, but I felt I was riding well enough to challenge for the victory. Fridayís Prologue went to plan and I was able to win it by about seven seconds. In hindsight that probably wasnít my best tactical decision of the event as the prologue then determined the starting order for day one. Being first on the road meant navigation was difficult and by trying to push hard I got lost a couple of times, which allowed Graham and then Alfredo to catch me. Ending day one in third cost me a chance at winning the event outright. On day two I started third and rode better than I did previously. I reeled the leaders in quite quickly and won the day but just wasnít able to pull enough of a gap to win the race. On a positive note winning two out of three days wasnít bad!Ē
Results Ė 2014 Hard Enduro Piatra Neamt
1. Graham Jarvis (Husqvarna); 2. Jonny Walker (KTM); 3. Alfredo Gomez (Husqvarna)
---
Jonny Walker Wins Erzberg 2014
The 20th edition of the Erzbergrodeo was certainly a good one for KTMís Jonny Walker, who powered his way to a dominant victory. Claiming a start-to-finish win to become a two-time winner of the Red Bull Hare Scramble, Walker made light work of a race that was anything but easyÖ
Congratulations, you must be thrilled to have won the 20th edition of Erzbergís Red Bull Hare Scramble?
Jonny Walker: ďI am. I can't tell you how pleased I am to have won. Everyone knows just how important this race is, and how hard it is to win, so to have put last yearís disappointments behind me and returned to the top of the podium is amazing. I have to say a huge thanks to all of my sponsors and supporters, itís been a real team effort.Ē
Whatís changed in the last 12 months Ė the Jonny Walker that won this year was a completely different rider to the one that placed fourth in 2013?
JW: ďA lotís changed. I guess the first thing is that I believed I could win. The last few weeks Iíve been building towards this, with the help of a lot of people. Last year was a tough year. People were expecting me to do well after I won in 2012, but my health and fitness wasnít what it needed to be. This year I knew I could do it. I knew it wouldnít be easy, but I felt strong coming into the race and knew I had an amazing bike.Ē
How was the race Ė it looked like it couldn't have gone any better for you?
JW: ďIt went pretty much exactly like I hoped it would. I lead coming out the first corner, then dropped a few positions as I lined myself up for the first hill. I wasnít worried about that, as I knew how important it would be simply to get to the top of it. I got into the lead soon after that, and then pushed as hard as I could. Everything just fell into place. I didn't make many mistakes, focused on my own race, and things worked out great.Ē
The Red Bull Hare Scramble is never easy, how did this yearís compare to previous years?
JW: ďIt wasnít easy, but it wasnít too hard either. I felt really fresh when I finished, but if it had rained it would have been a totally different story. The rocks through Carlís Diner were dry and grippy and that made things a lot simpler. It was a great track, not too hard but not too easy. I guess it must have been a little easier this year because there were a lot of finishers.Ē
Did you make any mistakes, have any scary moments?
JW: ďI did make one mistake in the woods, where I overshot a turn and had to lift my bike back up the hill and onto the track I needed. I went over the bars once as well. We refuelled at the bottom of the hill called Machine, and that didn't go so well. A lot of fuel didn't make it into my bike and some got onto the air filter. The bike didn't run so well for a while after that and I had to have two goes at that hill. But it cleared and everything was fine with my bike.Ē
How hard was it riding alone for so long?
JW: ďI had a little battle with Cory Graffunder at the start of the race, which was cool. But then I was alone. In some ways itís great because it was just me and the track, but I did have a few doubts starting to creep into my mind Ė am I going the right way, am I pushing too hard, not hard enough. Once I knew I had a good lead, and was through Carlís Diner, I felt a little more settled. But I never stopped pushing.Ē
So whatís next, whereís your next event?
JW: ďI wish I was racing at X Games next weekend but the goal was to focus everything towards winning at Erzberg, which we managed to do. I didn't want to do half a job at two different races. I guess itíll be back to training and riding and then the next event is Romaniacs. Iím looking forward to that. It was a mixed event for me last year, but I know what to expect there now. It should be a lot of funÖĒ
Results Ė Erzberg 2014, Red Bull Hare Scramble
1. Jonny Walker (KTM) 1:37:38; 2. Graham Jarvis (Husqvarna) 1:50:50; 3. Andreas Lettenbichler (KTM) 1:53:01; 4. Alfredo Gomez (Husqvarna) 1:53:53; 5. Paul Bolton (KTM) 1:55:21; 6. Dougie Lampkin (KTM) 2:05:31; 7. Cory Graffunder (Husqvarna) 2:05:51; 8. Ben Hemingway (Beta) 2:18:01; 9. Taylor Robert (KTM) 2:19:24; 10. Cody Webb (Beta) 2:20:06Ö
---
Jonny Walker @ British Enduro Championship
Muntjac Enduro
Jonny Walker has ended his season on a high by clinching the British Enduro 3 Championship at the Diss MCC Muntjac Enduro.
As the clear championship leader of the E3 category, Walker entered the final round of the season as the champion elect. Comfortably topping the E3 class at the one--Ā]day event, the KTM rider eased his way to his first BEC title. But with his sights set on figuring highly in the overall classification, Walker couldn't afford to relax.
Intent on building on his success at the penultimate round of the season where he claimed an impressive top three result, the Hard Enduro specialist struggled to get up to speed at the Muntjac's opening test. Making mistakes on the slippery, high--Ā]speed forestry based test the young Cumbrian placed eighth.
Working hard to recover the time lost, Walker fought his way up to fourth as they entered the final special test of the day. But with only one second separating fourth to sixth, a simple mistake nearing the end of the test proved costly and pushed him back to sixth. Despite his hopes of an end of the season top three result, in securing the Enduro 3 title Walker brought his participation in the British Enduro Championship to a successful close and now focuses his efforts on the upcoming second round of the SuperEnduro World Championship.
Jonny Walker: I'm really pleased to have ended my season with the British Enduro 3 Championship. I struggled on the first two special tests and that cost me a lot of time. I dropped back to eighth but by halfway through the day I had recovered to fourth. With three riders separated by one second entering the final test I made a small mistake and got pushed back to sixth. Overall it's been a great season. I feel I improved greatly over the year . I've got my riding back on track and it's showing in my Hard Enduro commitments. Winning the E3 title has been an added bonus.
Walker's next race will be at round two of the 2014 FIM SuperEnduro World Championship in Lodz, Poland on December 14.
Results British Enduro Championship, Muntjac Enduro 1. Jamie McCanney (KTM) 1559.45 2. Danny McCanney (KTM) 1570.29 3. Tom Sagar (KTM) 1594.88 6. Jonny Walker (KTM) 1599.67
---
Mixed Fortunes For Jonny Walker At Liverpool SuperEnduro Opener
Round one of the 2014 FIM SuperEnduro World Championship was one of mixed fortunes for KTM Enduro Factory Team rider Jonny Walker. Suffering numerous crashes throughout the night, Walker ended the event sixth overall despite a best race result of third in Final #3.
With the opening round of the 2014 SuperEnduro series marking a home race for the young Brit, Jonny had high hopes of delivering a podium result in front of his home crowd. Starting strongly in the first of three finals, the KTM rider was fighting for a top three result until he crashed trying to avoid a fallen rider. Regrouping he battled his way back to sixth.
Starting from the second row of the grid for Final #2, Walker played a game of catch up as he worked his way through the field. Buried deep in traffic for the majority of the race he eventually placed eighth. Determined to improve his fortunes, Walker turned his luck around in Final #3. Rounding the first turn inside the top three, he fought hard with David Knight for the runner-up result. Unable to find a way into the runner-up position, Jonny came home third, ending round one of the series in sixth overall.
The 2014 FIM SuperEnduro World Championship continues with round two in Poland on December 14th.
Jonny Walker: "It wasn't the best of nights for me, but it was great to race in front of a home crowd. I was riding good but I had a few crashes that held me back. The track was quite one lined in places and when you made a mistake it was really difficult to recover from it. In Final #1 I was up to fourth but a rider in front of me got crossed rutted on the tyre jump and I crashed trying to avoid him. I lost a lot of places as a result but managed to get back to sixth. Final #3 was my best race of the night. Everything seemed to come together for it. I got a good start and didn't crash. I was riding with David Knight for the entire race but I just didn't have the energy on the final lap to try and pass him. Overall it's a little frustrating to finish sixth at my home race. I would have loved to have been on the podium but I know my speed is good and if I limit my mistakes I can easily improve at the next round in Poland."
Results - FIM SuperEnduro World Championship, Rnd1
Prestige Class - Overall Classification
1. Taddy Blazusiak (KTM) 63pts; 2. David Knight (Sherco) 45pts; 3. Dani Gibert (Husaberg) 41pts; 4. Alfredo Gomez (Husqvarna) 37pts; 5. Cody Webb (Beta) 35pts; 6. Jonny Walker (KTM) 34ptsÖ
---
Walker wins Red Bull Camino de la Independencia
KTM Enduro Factory Team rider Jonny Walker has won the Red Bull Camino de la Independencia event in Colombia.
The Red Bull Camino de la Independencia - Road to Independence - took place high in the Colombian mountains surrounding Quindio and saw the 400 competitors battle it out for victory on the very tracks that served as the battle fields for Colombia's fight for independence hundreds of years ago.
Staged over two days, Walker's race got off to a mixed start in the Saturday prologue, where he crashed on the short special test and placed fourth. The finishing order of the prologue was then used to determine the starting order for Sunday's main event.
With clear skies greeting riders on Sunday morning, the KTM rider quickly settled into a traditional 'time card' style enduro. Facing four laps with two distinctive special tests, Walker held his own in a strong field of international competition. Leading the way for the majority of the day, he increased his advantage when heavy afternoon rain made conditions extremely slippery. Ending his day over twenty seconds clear of the runner-up Giacomo Redondi, the Walker secured victory.
Jonny Walker: "I can't believe how well this race has gone for me. With so many riders from the Enduro World Championship competing I knew it would be tough to win. The event, which was a traditional time card enduro, favoured those guys but I was determined to give it my best shot. In the Prologue I had a small crash and finished fourth but I felt like I was riding quite well. Conditions were dry when we started Sunday's main event and I settled into the format of the race quite easily. My special test times were competitive and I kept pushing hard throughout the day. On the final lap it rained and made things a little difficult but I was able to maintain my pace and held on to win. I'm really delighted to have won - it's been a great race."
Walker's next race will be at the opening round of the FIM SuperEnduro World Championship in Liverpool's Echo Arena on Sunday, November 17.
Results - Red Bull Camino de la Independencia
1. Jonny Walker (KTM); 2. Giacomo Redondi (KTM); 3. Homero Diaz (KTM); 4. Mario Roman (Husaberg); 5. Jaume Betrio (Husaberg)
---
Disappointment for Walker in Ecuador
KTM Enduro Factory Team rider Jonny Walker endured a difficult race at the Enduro Ukupacha in Quito, Ecuador.
Hoping to repeat his winning result from the recent Red Bull Sea to Sky event in Turkey, Walker arrived in Latin America in confident spirits. With the race staged over two days, the Saturday Prologue would determine the starting order for Sunday's main race. Held in the bull fighting arena Quito . the world's highest capital city . competitors faced an Endurocross styled race at an extreme altitude of 3000m.
Qualifying directly from his heat race, Walker got off to a great start in the final before a crash on the opening lap dropped him back. Fighting his way back into second he began to close in on race leader Taylor Robert. A second mistake forced Walker to settle for the runner--Ā]up result. Second to start Sunday's main event, Walker immediately set a fast pace and quickly closed in on initial race leader Taylor Robert. Catching and passing Robert, Walker then opened up an early advantage over the chasing pack. But at checkpoint three, Walker's race began to take a turn for the worst. Damaging his KTM.s radiator, his bike lost all of its coolant. Trying to repair the damage he managed to continue temporarily race on until his bike eventually stopped once more --Ā] forcing him to retire from the race.
Jonny Walker "The Prologue was a lot of fun. It was an Endurocross track in a bullfighting arena. I wasn't too difficult to ride but with the high altitude in Quito it was tough work. Crashing on the third corner made things hard for me but I was pleased to close in on Taylor Robert as heĀfs currently on top of his game in the US Endurocross series. Unfortunately, Sunday's main event didn't go to plan. I got into the lead early on and was riding really good. At checkpoint three I had opened up a bit of an advantage but then hit some problems. The radiator got damaged and I lost all of the bike's coolant. I managed to refill it but it overheated again and this time I had to stop. It was a disappointing way to finish the race".
---
Walker Dominates Red Bull Sea to Sky
Dominating the race from start to finish, KTM Enduro Factory Team rider Jonny Walker has won the 2013 Red Bull Sea to Sky in Kemer, Turkey.
Set out over three days of competition, Walker was in confident spirits when he arrived in Turkey. A firm favourite for the opening event . the Beach Race . the KTM rider blasted his way to a commanding victory on the Kemer shoreline. Starting the 20 minute race inside the top five, he sliced his way to the head of the field by the end of lap one. Getting stronger and stronger in the deep sand, he eased his way to victory. On day two it was the turn of the Forest Race. The finishing order would determine the starting position for the weekend's main event . the Mountain Race. As the first rider to be flagged away, Walker pushed hard to open up a lead. Enjoying the fast, flowing, and technical course, he topped the classification and moved one step closer to winning the all important Mountain Race. Riders who lined up on the beach for the Mountain Race faced a 50km race to the finish line, located on the 2365m high summit of the towering Olympus Mountain. Eager to dictate the pace from the beginning, Walker grabbed the holeshot and began his charge for victory. At the halfway stage, his unrelenting pace saw him increase his advantage over a chasing Graham Jarvis to almost three minutes. Despite losing time on the tricky Dark Canyon climb, he held onto the lead as the duo began the long climb to the summit. Refusing to be beaten, Jonny dug deep and increased his pace further. Edging away from Jarvis, Walker crossed the finish line as the new Red Bull Sea to Sky champion.
Jonny Walker "I'm so happy to have won. Honestly, I have no words to describe how I'm feeling. I wanted this win so much. Up until now IĀfve had a disappointing season and I was determined to turn it around here in Turkey. Winning the Beach Race set me on the right track. For the Forest Race I felt very comfortable with the terrain and pushed at about 80 per cent. That victory gave me a lot of confidence leading into the Mountain Race. I focused on getting a good start and as soon as I got into the lead I rode at my maximum. I made one mistake at the Dark Canyon and Jarvis caught me again. But I refused to lose and gave it everything I had over the mountain stretch to win. ItĀfs an incredible feeling to be back on top of the podium again. This win means a lot and hopefully it's the start of more to come"
Results] Red Bull Sea to Sky 2013, Mountain Race 1. Jonny Walker (KTM); 2. Graham Jarvis (Husaberg); 3. Alfredo Gomez (Husaberg); 4. Andreas Lettenbichler (Husqvarna); 5. Philipp Scholz (KTM)
---
Walker enjoys 'rain-affected' EWC finale
KTM Enduro Factory Team rider Jonny Walker delivered a solid performance at the final round of the Enduro World Championship in St Flour, France. Making his debut ride in the EWC, Walker placed ninth on day one and tenth on day two in the competitive Enduro 1 class.
Using the event as ongoing preparation towards his assault on the 2014 SuperEnduro World Championship, Walker contested the event on a KTM 250 EXC-f as apposed to his usual 300cc two-stroke machine. Settling into day one, the KTM rider quickly worked his way inside the top ten. But as the riders began their final lap of the day conditions took a turn for the worse as sections of the course becoming water logged following torrential rain.
On day two Walker again attacked from the off. Enjoying the conditions, he pushed hard to better his previous day's result of ninth. But with a couple of mistakes on the ultra fast cross test hampering his progress he eventually ended his day in tenth.
Jonny Walker: "It's been a great experience stepping into the EWC. Even though the event was a bit chaotic due to the rain I've really enjoyed it and would like to try and do a few more. I was hoping to finish inside the top ten and I managed to do that both days - ninth on day one and then tenth on day two. But for me this weekend was about getting some serious competition on a four-stroke under my belt in preparation for the SuperEnduro World Championship. We worked on a lot of things throughout the weekend, tried a lot of settings, and I learned a lot. On day two I felt a lot more comfortable and rode a lot better - even if my result doesn't show it. Next up is the penultimate round of the British Enduro Championship were hopefully we can get a good result on the four-stroke before switching back to the KTM 300 EXC in preparation for the Red Bull Sea to Sky event in Turkey."
---
Walker home second on Red Bull Romaniacs Day Three
KTM factory rider Jonny Walker kept his podium hopes alive on Friday with another strong ride in the wilds of the Carpathian Mountains on Day three of the 2013 Red Bull Romaniacs.
Walker, the young British extreme rider finished the stage fit and fighting sandwiched between overall leader Graham Jarvis and in front of Alfredo Gomez, second overall after Day Two. Overall results for Day Three will be released later tonight. Walker also gained about five minutes on Friday on the leader Jarvis and still has a chance of repeating his 2012 effort and finish on the podium.
As Thursdayís stage winner, Walker was charged with opening the track on Friday. He went out fast and stayed at the front of the pack for the first half of stage. A small navigational error in the second half cost him the lead but he still gained an important five minutes on Jarvis at the end of the day.
Team manager Julian Stevens said Walker was fresh, feeling good and looking forward to the final day. ďThis is the tenth anniversary of the Romaniacs and I think tomorrow will be a very difficult day, ďStevens said. ďBut Johnny is happy and feeling great and many of the other riders are very tired after these hard days of riding.Ē
Veteran Romaniac and KTM rider Chris Birch of New Zealand is hanging in with the top riders and finished in sixth place on Day Three. UK KTM rider Paul Bolton finished fourth.
Not so lucky was KTM factory rider Cristobal Guerrero of Spain. He was close behind another rider on a very fast section when the rider in front overlooked a ditch and crashed. Unable to avoid him, Guerrero too crashed and both riders were taken to hospital for checks. Stevens said indications were that Guerreroís injuries were not serious.
Teammate Ivan Cervantes retired after Day One following a small injury. He wanted to continue but he had to keep in mind that there is still one round of the Enduro World Championships to go. The Spanish rider has promised to return to contest the Romaniacs in 2014.
Unofficial Results Day 3
1, Graham Jarvis, UK, Husaberg 06:01:17 2, Jonny Walker, UK, KTM 06:05:06 3, Alfredo Gomez, Spain, Husaberg 06:24:23 4, Paul Bolton, UK KTM 06:29:30 5, Andreas Lettenbichler, Germany, Husqvarna 06:31:47 6, Chris Birch New Zealand, KTM, 06:35:08 7, Ben Hemingway, UK 06:45:48 8, Philipp Scholtz 07:04:40 9, Scott Bouverie 07:20:29 10, Dan Hemingway, UK 07:31:09
---
Walker makes up time on Jarvis on Romaniacs Day Two
Red Bull Romaniacs Hard Enduro -Day 2
After a tough outing on Day One of the tenth anniversary edition of the Red Bull Romaniacs Hard Enduro, KTM factory rider Jonny Walker turned his game around on Thursday to take line honors.
Walker put the tribulations of crashes, losing his GPS device and fuel issues behind him and had a great day out on the track in the Carpathian Mountains of Romania. He was first across the line after 5 hours 50 minutes and 40 seconds on his KTM machine.
Day two was faster and easier than the now notorious Day One when only a handful of the 40 professional riders finished the day but apart from one small navigational error for the young UK rider it was all systems go for Walker. He was also able to pick up about 15 minutes time on overall leader Graham Jarvis who finished in fifth place.
Walker finished in front of Spaniard Alfredo Gomes and veteran Romaniac Andreas Lettenbichler of Germany. KTMís New Zealand Romaniac veteran Chris Birch finished sixth to be up with the elite Extreme riders.
Jonny Walker: ďToday was mega and Iím so happy to have won the day. I gave it everything I had and charged hard all day and was able to win by more than two minutes. Hopefully this is a step in the right direction, Iím getting closer to the podium!Ē
Walker took a podium third last year, which was a strong result for the young rider. Jarvis and Lettenbichler, older and much more experienced, took the top two 2012 places. Jonnyís top result is also an indication that he has finally put the effects of glandular fever behind him and that he is able and willing to fight with the elite in the group.
After fighting their way through the countryside, the final part of the stage took riders through a disused coal processing plant Ė a stark contrast to the rolling hills and forests of the Carpathians.
KTM factory rider Cristobal Guerrero was a determined finisher on Thursday after a torturous day on Wednesday when he was 15 hours and 36 minutes on the trails. Teammate Ivan Cervantes did not start on Thursday after twisting his knee in Wednesdayís marathon.
The tenth edition of the Romaniacs concludes on Saturday.
Unofficial Day 2 Results (no official and no overall yet available)
1, Jonny Walker, UK, KTM 5:50.40 2, Alfred Gomez, Spain, 5:52:45 3, Andreas Lettenbichler, Germany, Husqvarna, 6:01:48 4, Paul Bolton, UK, 6:05:26 5, Graham Jarvis, Husaberg, 6:05:46 6, Chris Birch, New Zealand, 6:06:11 7, Ben Hemingway 8, Alex Van den Broek 9, Rienk Tuinstra 10, Dan Hemingway
Walker finishes fifth on Romaniacs tough first day Red Bull Romaniacs Hard Enduro - Day 1
KTM factory rider Jonny Walker put up a valiant effort to struggle back to fifth place on the opening day of the notoriously difficult Red Bull Romaniacs Extreme Enduro in Romania on Wednesday after finishing on the podium after Tuesdayís ultra-tough prologue.
Overall winner of the day was the very experienced Graham Jarvis, followed by Andreas Lettenbichler while Alfredo Gomez was listed provisionally third.
Second out into the rough and tumble of the mountains around Sibiu, the 22-year-old Walker got away to a great start but some distance into the race got caught up in a tree, hurt his arm and in the process misplaced his GPS device, essential for navigating. He got back into the race, found his rhythm once again and was trailing the leaders by about 11 minutes at the refueling point and well back in the running for a good result.
But today was not Jonnyís day and around five km from the finish he ran out of fuel and for the last 30 minutes plus had to push his bike at considerable cost to his energy levels. That he hit the finish in fifth was testament to his toughness on a day when even the most experienced had their problems. Walker now has around a one-hour deficit on the leader with three more days to go.
ďI pushed hard and then crashed off the side of a bank. I got going again with Lettenbichler but ran out of fuel before the service. I must have pushed my bike for about 3km until I managed to get some fuel from an Expert rider. When I got going again I managed to get back to fifth.Ē Walker told reporters.
But if Walker found it tough going on the opening day of competition, he was not alone. Some 40 riders started in the professional class, the elite and most skilled competing, but only eight were on the list of the provisional results. KTMís Ivan Cervantes and Cristobal Guerrero were accounted for but both not included in the provisional results. Veteran Romaniac Chris Birch of New Zealand took time out for a cooling off swim in one of the rivers and finished sixth provisionally.
Provisional Results Pro Class Day One (of 40 starters, only 8 finishers)
1, Graham Jarvis, UK, Husaberg 2, Andreas Lttenbichler, Germany, Husqvarna 3, Alfredo Gomez, Spain, Husaberg 4, Ben Hemingway, UK, Beta 5, Jonny Walker, UK KTM 6, Chris Birch, New Zealand, KTM 7, Paul Bolton, UK, KTM 8, Erasmo Klering, KTM

Walker ready for Romaniacs 2013- Red Bull Romaniacs Hard Enduro
KTM Enduro Factory Team rider Jonny Walker takes to the start of the 2013 edition of the Romaniacs Hard Enduro Rally today, following a runner-up result in the eventís prologue in Sibiu yesterday. A second time entrant at Romaniacs having made his debut in 2012, Walker, who topped day fourís stage last year, heads into the 10th anniversary edition of the event knowing that itís going to a long and demanding week.
Competing in the Enduro X event at the Munich X Games on his way to Romania, where he placed eighth following an incident filled main event, Jonny is well aware that the next few days are going to be anything but straight forward. With the picturesque but often brutally challenging Romanian countryside to contend with, as well as unpredictable weather, and the strongest line-up of competitors ever at Romaniacs, Walker is ready to rise to the challengeÖ
The 2013 Red Bull Romaniacs runs from July 2nd to the 6th. Details
Jonny Walker: ďIf this yearís Romaniacs is going to be anything like the prologue itís going to be a crazy race! But it should be great. The weatherís amazing here in Sibiu at the moment, and like all the riders I can't wait to get stuck into the real riding. The prologue was fun, but itís what happens over the next few days that really matters. Iím pleased to have finished second in the prologue. I was leading until the final lap, but second is a great result. I guess the prologue is a bit of fun, but it was tough.
ďThis is my second time here at Romaniacs. Iím hoping for a good race but so much can happen. Thereís a great line-up of riders competing here, with all of the Hard Enduro regulars competing. Last year I learned a lot Ė it was my first time using a GPS. I won the fourth day, which was great, but it took me some time to settle in. I hope I can get up to speed a little quicker this week.
ďAs this is the 10th anniversary of Romaniacs Iím sure the organisers have a few surprises for us. The race was hard last year. With the weather, using a GPS, the tough competition, itís certainly not going to be easy this year. But Iím looking forward to it. I feel good, got a little practice in at X Games in Munich, so fingers crossed all goes well.
ďX Games was a strange one again. It kind of went from good to not so good for me, but it was a great experience again. Qualifying went well, I was second fastest behind Taddy. It was good to know my speed was good. I got a good start in the final but made a mistake on one of the rock sections. It was a real hit ní miss section Ė a lot of riders went around it but I stuck to the track and rode it every lap. I ended up eighth, which isn't great, but it was strange race. I enjoyed it, and it was another great experience.Ē
---

Walker finishes fourth
at Erzberg 2013
KTM Enduro Factory Team rider Jonny Walker has finished fourth at the 2013 ErzbergRodeo Red Bull Hare Scramble. Qualifying third for the main event after a solid prologue performance, Walker was one of many riders unlucky to drown their bikes shortly after the start of the race. Making a great get away from the drop of the flag, the 2012 Erzberg winner lead as he rounded the first turn. But just meters later his bike took in water, ending his hopes of a second consecutive victory.
With 14 hours of heavy rain falling prior to the race a small, and in places very deep, lake had formed at the start. With riders having no option but to ride through it, Jonny, like many, was unfortunate enough to have his bike take in water. Thankfully Jonny was able to re-start his KTM, but having lost at least five minutes he instantly dropped outside the top 40.
With no option but to charge as hard as he could Jonny soon began working his way up the leader board. Inside the top 10 without too many troubles, his charge for the podium effectively ended when he got stuck shortly before the infamous Karlís Diner section. Reaching as high as third, Jonny again found himself stuck and dropped to his eventual finishing position of fourth. Giving all he had during the closing stages of the race he closed to within one-minute of a podium result, placing fourth behind race winner Graham Jarvis, runner-up Andreas Lettenbichler, and third placed Alfredo Gomez.
Jonny Walker: ďIím so disappointed with how my race went. I wanted to fight for the win but things just went wrong, right after the first corner. I timed the start perfectly and got the holeshot. I thought coming out of the first corner that Iíd done exactly what I needed to do. But as I rode through the water my bike just died. It sucked a lot of water in and stopped. I managed to push it onto a bit of dry ground and did everything I could think of to get it going. I tipped it over, drained the water, then the fuel and kicked and kicked until it fired back up. Once I got going I just pushed as hard as I possibly could. I managed to fight my way into the top ten and at one point was riding with Jarvis. But I got badly stuck on the section called Machine and lost so much time. I pulled and dragged my way out of it and managed to get up to third place. Then in one of the next rocky sections I got stuck in a hole and Alfredo Gomez slipped by. I kept charging and could see him at the hill called Dynamite. I did everything I could to catch him but ran out of time. Iím so disappointed to miss out on the podium. At the very least that was the result I wanted. All I can do is learn from my mistakes and come back stronger.Ē
Results Ė ErzbergRodeo 2013, Red Bull Hare Scramble
1. Graham Jarvis (Husaberg), 2. Andreas Lettenbichler (Husqvarna), 3. Alfredo Gomez (Husaberg), 4. Jonny Walker (KTM), 5. Ben Hemingway (Beta)
---
Tough X Games Debut For Walker Barcelona 18th May
KTM Enduro Factory Team rider Jonny Walker endured a difficult debut ride at the Menís Enduro X Final at X Games Barcelona to finish 11th.
Making his first ever appearance at X Games, Walker entered the event with high hopes of a strong result. But between a combination of poor starts, small crashes and bad luck, the 23-year-old failed to find his rhythm on the high-speed track.
Hampered by an unfortunate start-straight crash during his qualifying heat, the KTM rider battled his way from last to fifth position, securing a place in the hotly contested Menís Enduro X Final.
Opting for an inside starting gate for the ten-lap final, Walker got boxed in entering the first corner and was pushed to the rear of the pack. Trying to find a clear line through the next couple of corners, the KTM rider crashed and was forced to remount dead last. Battling hard, the British rider focused on working his way up the leader board. But with the track becoming increasingly one-lined as the race progressed, Walker could only fight his way back to 11th position.
Jonny Walker: ď11th wasnít the result I hoped for entering the race in Barcelona. I struggled with my starts all night and that really hurt my chances of a solid result. Opting for an inside gate for the main event I got boxed in entering the first corner. I tried to find a clear line thorugh the next couple of corners but that didn't work and I ended up crashing. I got going last and just tried to make the best of a bad night and worked hard to improve my position. The track was very one-lined and it was hard to pass. X Games has been a big learning experience. This was my first time racing endurocross outdoors so Iíve still a bit to learn. But I feel with more practice I can definitely improve. At times my speed was good enough to run up front so for the next round in Munich Iíll aim for a top five result.Ē
Jonny Walker now turns his attention towards the Erzbergrodeo Hard Enduro in Austria from May 31 to June 02.
Results Ė Menís Enduro-X Final, Barcelona
1. Mike Brown (KTM) 10:59.579; 2. Colton Haaker (Honda) 11:01.417; 3. Cody Webb (Beta) 11:14.456; 4. Taddy Blazusiak (KTM) 11:22.695; 5. Cory Graffunder (Husqvarna) 11:24.988; 11. Jonny Walker (KTM) 11:59.656Ö Photo: Pep Segales
---

WALKER 3RD IN 2013 SUPERENDURO CHAMPIONSHIP
Jonny Walker brought his participation in the 2013 FIM SuperEnduro World Championship to a successful close at the third and final round of the series in Tours, France claiming third in the final championship standings behind Taddy Blazusiak and David Knight. Enduring mixed fortunes during the three finals, Walkerís night started in the best possible way when he holeshot the opening final. Later suffering with arm pump, Jonny placed third.
The nightís second final ended with Walker placing a disappointed eighth. Falling on more than one occasion things simply didnít go his way. Thankfully a runner-up result in the third and last final brought Jonnyís championship to an impressive close.
Jonny Walker (KTM 300 EXC): ďI always knew it would be tough to get the runner-up spot in the championship, so I was focused on making sure I got third Ė anything better would have been a bonus. The track was great, but a lot different to Barcelona. There was so much grip and you could really attack the track. It took a while to get my bike dialled in, but once we did it was awesome. I really enjoyed the racing. Iím pleased with the way I rode, I just had a few small things not go my way in the second final. I got a great start in the first race and took the holeshot. I stayed out front for four laps and felt good until I got arm pump. I had to settle for third. I got quite a good start in the second race but clipped a rider in the first corner and my start device got stuck down. I couldnít jump anything for a couple of laps and lost some places. I got taken out later on in the race and my result in the second final kept me off the eventís overall podium. But the third final went well. I stuck with David the whole race and when Taddy made a mistake I moved into second, which is a good result to finish the championship with. I feel like Iíve improved during the series and I know I have the speed to win now. Finishing behind two of the greatest indoor enduro riders isnít a bad result. Itís been a good series, Iím really looking forward to next yearís longer championship.Ē
Results Ė SuperEnduro 2013, Rnd 3
1. Taddy Blazusiak (KTM); 2. David Knight (Honda); 3. Dani Gibert (Husaberg); 4. Jonny Walker (KTM)Ö
Championship Standings Ė SuperEnduro 2013
1. Taddy Blazusiak (KTM) 162; 2. David Knight (KTM) 130; 3. Jonny Walker (KTM) 119; 4. Alfredo Gomez (Husaberg) 99; 5. Kornel Nemeth (KTM) 89; 6. Joakim Ljunggren (Husaberg) 67; 7. Thomas Oldrati (Husaberg) 52; 8. Daniel Gibert (Husaberg) 47; 9. Christophe Braund (Sherco) 46; 10. Ivan Cervantes (KTM) 33Ö
---
RUNNER-UP RESULT FOR WALKER IN 2013 BEEC SERIES
Jonny Walker has secured the runner-up position in the two-round 2013 British Extreme Enduro Championship with a third place result at the final round of the series held at Cowm Quarry, Lancashire. Enduring a tough two-hour race, Jonny crashed in the second corner with a another fall at the start of lap two forcing him to later stop and fit a new front wheel. Battling his way back to third Jonny placed behind David Knight and Graham Jarvis.
Still feeling the effects of extreme dehydration from his runner-up result at Hellís Gate Jonnyís hopes of challenging for a win were derailed almost as soon as the race began. Caught out by the frozen conditions Walker crashed in the second corner, dropping to fifth. Working his way back up to second another fall Ė this time over the handlebars while negotiating a rock garden Ė resulted in a bent front brake disk. Forced to pit to fit a new front wheel Jonny lost contact with the leading duo and ended the race third.
Jonnyís next event is the final round of the SuperEnduro World Championship, which takes place in Tours, France on March 9.
Jonny Walker (KTM 300 EXC): ďIt wasnít a good event for me, I just wasnít with it properly. I knew I wouldnít be at my best after my problems at Hellís Gate last week, but I wanted to try and give it my best shot. Nothing really went right. I crashed in the second corner and made loads of mistake throughout the race. To get on the podium was ok considering I had to stop and change my front wheel. I crashed at the start of the second lap and went straight over the bars, which bent my front brake disk. That kind of summed up my day. It was a good track and a good day, just a shame I wasnít able to start it feeling 100 per cent.Ē
Results Ė BEEC 2013, Rnd 2 1. David Knight (Honda) 2. Graham Jarvis (Husaberg) 3. Jonny Walker (KTM) NB: Images courtesy of Nuno Laranjeira
---
RUNNER-UP RESULT FOR WALKER AT HELLíS GATE
Jonny Walker has claimed a hard fought runner-up result at the 10th running of the Hellís Gate Hard Enduro event in Italy, despite sickness prior to the race resulting in the KTM rider reaching the finish of the four-lap main event exhausted and barely able to stand. Winning the morningís qualifying enduro, Jonny went on to lead the main event during the early stages before eventually securing a second consecutive runner-up result.
With heavy snow falling during the lead up to the race, the 10th running of the Italian classic was in many ways the most challenging. Despite the course being eased slightly the deep snow that covered the tracks and trails ensured few riders made it to the end of the morningís qualifying race without falling. For Jonny the morning race went extremely well, as the KTM mounted rider secured the win ahead of Graham Jarvis and Cody Webb.
Leading from the start of the main race a crash half way around the opening lap dropped Jonny to third. Soon back in the runner-up position it wasnít long before his pre-event sickness started to take its toll as he began to struggle during the third and fourth laps. Falling on numerous occasions Jonny finally found his rhythm on the penultimate lap, going on to claim a well-deserved runner-up result.
Jonny Walker (KTM 300 EXC): ďItís been a tough race for me, but Iím really pleased to have finished as runner-up. I was sick this week and half way through the final lap I hit the wall. I had absolutely no energy left and started seeing double at times. I knew Cody wasnít too far behind me so I couldnít ease off Ė I canít believe I managed to hold on the second. The morning race went well for me. It wasnít too hard, despite the deep snow, and was quite high-speed. I enjoyed it and topped the results, which was good as it gave me the first starting spot for the main race. I got the holeshot and led for a while but then made a mistake in one of the river beds. Graham and Cody both came passed me, I crashed so many times after that. It seemed that I was off the bike more than I was on it during the first two laps. I just couldnít get into any rhythm, but on the third lap I pushed hard and started to ride well. About a quarter of the way around the last lap I was done, my eyes started going funny and I had no strength. But I knew Cody was close behind so I just kept pushing. The final hill was crazy Ė I didnít really know what was going on. But I managed to get to the top and get the runner-up result. I was exhausted when I got to the top of the last hill, but considering I was ill before the race Iím really happy to have got another podium result.Ē
RESULTS Ė HELLíS GATE, 2013
4 laps completed Ė 1. Graham Jarvis (Husaberg) 4 laps
2. Jonny Walker (KTM) 4 laps + 12.17
3. Cody Webb (Beta) 4 laps + 17.32
4. Alfredo Gomez (Husaberg) 4 laps + 21.52
5. Ben Hemingway (Beta) 4 laps + 29.28
---

TOUGH NIGHT FOR WALKER AT SUPERENDURO RND 2
Jonny Walkerís hopes of a second consecutive overall podium result at the 2013 FIM Superenduro World Championship were dealt a cruel blow in the opening final at the Enduro Indoor De Barcelona held inside the Palau St Jordi stadium, Barcelona. Crashing into the back of a stricken, slower rider while negotiating his way across the tricky log section, Jonny was forced to charge his way back from dead last before eventually placing 10th Ė a result that frustratingly ended his chances of a top three overall result.
But things thankfully improved for Jonny as the KTM rider went on to place fourth and third in the nightís second and third finals. Lucky not to lose the end of his right little finger when he fell in the opening final, Walker survived the reversed start order of the second final to place a strong fourth behind David Knight, Alfredo Gomez, and Taddy Blazusiak.
Saving his best until the third and closing final Jonny ensured a positive end to the event by placing third behind Blazusiak and Kornel Nemeth. Placing sixth overall, Jonny was just seven points away from the third step of the podium. With one round of the Superenduro World Championship remaining, in Tours, France, on March 9, Jonny currently sits third in the championship standings, one-point behind runner-up David Knight.
Jonny Walker (KTM 300 EXC): ďI guess I just didnít have luck on my side here in Barcelona. It was the first race that really let me down as I finished 10th, but thatís the way things go sometimes. I crashed into the back of a rider as I went over the logs. Iím not sure what he did but I had nowhere to go and ended up crashing into the back of him. I managed to work my way back up to sixth or seventh but I was really tired and crashed again in the stones. I caught my finger when I went down and I guess Iím pretty lucky that I didnít lose the end of it. The second final went ok. It was a bit crazy to start with because of the reversed start order but I finished fourth behind Taddy, so that was ok. The last final went well, and I was pleased to finish top three. Itís disappointing that things didnít go well in the first final, because that really spoiled my overall result, but getting two solid results in the second and third finals is good.Ē
RESULTS Ė SUPERENDURO WORLD CHAMPIONSHIP 2013, ROUND 2
1. Taddy Blazusiak (KTM) 54, 2. David Knight (Honda) 41, 3. Alfredo Gomez (Husaberg) 36, 4. Kornel Nemeth (KTM) 34, 5. Ivan Cervantes (KTM) 33, 6. Jonny Walker (KTM) 30, 7. Thomas Oldrati (Husaberg) 24, 8. Rodrig Thain (Gas Gas) 19Ö
CHAMPIONSHIP STANDINGS
1. Taddy Blazusiak (KTM) 111, 2. David Knight (Honda) 82, 3. Jonny Walker (KTM) 81, 4. Alfredo Gomez (Husaberg) 67, 5. Kornel Nemeth (KTM) 63, 6. Thomas Oldrati (Husaberg) 52Ö
---
SECOND PLACE RESULT FOR WALKER AT BEEC RND 1
For the second time in as many events KTMís Jonny Walker has secured a solid runner-up result, this time at the opening round of the British Extreme Enduro Championship held at Tong Hall, near Bradford. Turning 22 on the day of the event, Jonny battled his way through the tough two-hour race to place behind David Knight with Danny McCanney rounding out the podium positions.
Matching the result he secured at The Tough One just two weeks earlier, Jonnyís hopes of a winning performance at Tong Hall were ended after four laps. With race leader David Knight in sight until that point, a mistake on one of the technical uphill sections of the course saw Jonny stuck under his bike, which cost him valuable time.
Holding his runner-up position from start to finish, despite his fall, Jonny pushed hard during the second hour of the race but was unable to close in on Knight.
Jonny now heads to Spain in preparation for the second round of the Superenduro World Championship in Barcelona on Sunday, February 10th. Following the opening round of the Superenduro championship in Poland Jonny sits second in the series standings, just six points behind leader Taddy Blazusiak.
Jonny Walker (KTM 300 EXC): ďEverything went well really at Tong. I felt like I rode well and during the opening laps I felt really good. I was second off the start behind David and held that position for the first four laps. Then I made a mistake, which cost me a lot of time. David got up one of the climbs and I looped out, which wasnít great. I was stuck under my bike in a gully and had to wait for some spectators to pull my bike off me. I lost quite a bit of time and lost sight of David at that point. The track was tough Ė loads of tree roots and ruts everywhere, but I enjoyed it. I felt like I was going well again during the closing laps, but there was no way of catching David. He always rides well at Tong and definitely showed that, so to be second to him, and to have lapped all other riders, is a result Iím really pleased with. Itís all systems go now in preparation for the second round of the Superenduro World Championship in Barcelona in two weeks.Ē
---
TOUGH ONE RUNNER-UP RESULT FOR JONNY WALKER
KTM/Red Bull backed Jonny Walker has finished as runner-up at the 2013 Tough One Hard Enduro. Competing in the event for the first time, Walker completed 12 laps of a very wet and slippery course at the Nantmawr Quarry venue to place on the podium along with race winner Graham Jarvis and third placed Danny McCanney.
As the traditional Hard Enduro season opener, the 2013 Tough One event proved to be every bit as challenging as in previous years, despite several of the harder sections of the track being eased in anticipation of the wet weather. With early morning snow covering the quarry in a temporary white blanket, the start of the Pro race thankfully took place under dry skies. Eager to make a good start Walker found himself down in eighth as he fired his KTM 300 EXC into life. Battling his way up the leader board Jonny was quickly among the race leaders but in trying to pass eventual winner Graham Jarvis fell, losing valuable time and covering his hands in mud. Forced to stop and remove his gloves, having tried to ride on for several laps, Walker then pulled into the pits for fresh gloves and goggles. Losing sight of Jarvis, Jonny pushed hard to close the gap but was unable to reduce the deficit. Riding unchallenged for the majority of the race Jonny comfortably claimed the runner-up result.
Jonny Walker (KTM 300 EXC): ďI didnít get the best of starts as it was pretty full-on when the flag dropped. As everyone started I was getting pulled and pushed, but I made it to my bike ok, just a little further behind the leader than I had hoped. I was about eighth as I started but managed to move forward several places quite quickly. But then I fell trying to pass Graham Ė he went one way and I went anther, and it didnít work out for me. My gloves got completely covered in mud, and then I started getting arm-pump because I couldnít hold on properly. I decided to remove my gloves and then had to stop for clean ones, and thatís when I lost Grahamís wheel. I pushed hard to try and catch him, and did manage to close the gap at one stage, but he was riding really well and I just wasnít able to get back in contention with him. The course was plenty extreme enough. There were no big stoppers, but it was really enjoyable. I didnít get stuck behind any riders, which was good, but once Graham opened up a gap I just couldnít close it. Iím pleased to start the year with a podium result, and enjoyed the race despite things not quite going to plan early on. I know where I can make improvements so Iíll work hard to be ready for my next race.Ē
---
GP of Poland Ė Lodz December 8th
ďLodz of Points in PolandĒ
The 2013 SuperEnduro Championship got off to a great start in the city of Lodz,Poland. Last season this was the stadium that Jonny would show his true potential and made his first indoor podium, so he arrived with good memory's and a little confidence that he could be competitive again.
Immediately from the first timed practice he looked the rider most comfortable with the track design and proved it with a time 1.6 sec's faster than Knight and 2.6 faster than Blazusiak. For the second time practice he could not find opportunity to make a clear fast lap so just concentrated with training and to find good lines , however Knight had found extra speed and set a class leading time of just a few hundredth's faster than Jonny , this would decide the starting order for the Qualifying race.
Jonny made a solid start in the qualifier and quickly moved up onto Knight and Taddy, however a mistake it the tyre section when he hit the rear brake caused him to stop the bike and loose several positions. He could only fight back to 6th place on a track which did not give many possibility for overtaking, the low position would be a big handicap for starting choice in the finals, Taddy and Knight would take the first two places on the grid which would help them dominate the starts.
The first heat race and Jonny made an average start and had to pass a few guys to close onto the rear wheel of Knight, he made a few attempts to pass but could not find a good way, eventually he had to back off as he started to experience a lot of pain in his shoulders and be satisfied with 3rd place . Thankfully the physio of Taddy helped to relax the muscles in Jonny's shoulders, probably a little tension caused from his recent operation and this being the first intense race since that.
The second race would see a starting Order reversal and the fastest guys going to the second row !! JW would take inside line on the second grid and force his way past the slower riders in the first few turns to take the lead, every race tonight was won by the rider leading the first lap so the start was absolutely the most important thing, and now he had control he made 3 very fast laps to open a good lead over Knight and Blazusiak who fought their own close battle behind, eventually Knight would experience bad luck and hit a trackside bail and Taddy would inherit 2nd, but it was Jonny's turn to taste the glory and take the win.
Going into the final heat everything was to play for, both Taddy and Jonny shared wins and the points were close, even Knight was just 3 points behind Jonny so it would be intense racing for the final podium. Again Blazusiak made the hoelshot, Jonny tactically choose to start on the 2nd row again behind Knight and Taddy as taking the 6th place start would be a lottery to get a top 3 start , starting behind them would give him chance to follow them and try and capitalise on any error or opportunity. Jonny stalked Knighter the whole race and then in the final lap he took advantage when his rival made a mistake in the rock section, crossing the line behind Taddy for a solid 2nd place.
Jonny Walker KTM Factory EXC 300 - ď I am really satisfied with my result considering I messed up in qualifying, I thought after 6th place choice for the gate it would be difficult to make a strong result tonight, I am starting the championship in much better position than last year and now that I can start training again I feel that I can be more competitive at future rounds, thanks to all the KTM team and sponsors , the bike was awesome tonight and we donít need any changes to this, also a big thanks to Taddy's physio , after his work my shoulder was perfect Ē
Results Overall Rd 1 SuperEnduro 1. Taddy Blazusiak Factory KTM XCF 350 Ė 57 points 2. Jonny Walker Factory KTM EXC 300 Ė 51 points 3. David Knight Honda 450 Ė 41 points
Next Events: January 12th Tough One Hard Enduro ,
---
THE TOUGH ONES LITTLE BROTHER @ NANTMAWR QUARRY
25th NOVEMBER
Tough Ones new Little BrotherĒ - Jonny
The "Tough Ones little brother" event is billed as being a hard Enduro and a taster for the main event ďThe Tough OneĒ Extreme Enduro, with all the recent rain it certainly would live up-to expectations, fortunately on the day there was blue sky and sunshine to help the greasy course that was already challenging enough for most.
Jonny has never ridden at Nantmawr Quarry , so in preparation for the "Tough One" in January we decided to use this race as a warm up and test session so that Jonny could compete on more equal terms with his main rivals who have raced there several times before.
His pre-race strategy was to just follow the maestro Graham Jarvis for a few laps to learn the course and then to try and make a break if possible , however after the second lap Jonny decided he had taken enough of Graham's roost in the muddy conditions and decided it would be better to get out front sooner with a clear way and fresh goggles. Lapping in around 11 to 12 minutes JW quickly pulled out a cushion of just over 1 minute and then news came that Jarvis had bent his front disc and was having brake problems.
Jonny could now relax and do no more than needed to keep a safe lead , approaching the 1 hour mark Paul Bolton would pass Jarvis and get within 2 minutes of JW who would make his one and only fuel stop which cost him just 15 seconds. In the last hour Jonny had a trouble free ride and was handed another advantage as 2nd placed Bolton would run into trouble 15 minutes from the end when his tyre came off the rim and he was forced to withdraw handing back the 2nd place to Jarvis.
Going into the last lap Jonny had an almost 3 minute lead and cruised to the finish line followed by Jarvis and several minutes further back Alex Wigg
Jonny Walker KORR KTM 300 EXC - " Firstly thanks to WOR for inviting me and putting on a great course, everything went to plan, I expected a big battle with Graham here today and I'm sure without his brake problems I would have had to work much harder, I felt much better today than I have for a while and the 2 hours went really quick and without any incidents, i'm now looking forward to the more Extreme version in January knowing what to expect "
Team manager Julian Stevens - " Was a great practice run today for Jonny and good to finish the UK season how he started with a win. Part of the reason to ride here today was to get our bike dialed in and ready for January's "Tough One", Jonny reported that its working great and we won't change anything accept the tyres !! , now we switch back to Endurocross mode as the first round of the Indoor world championship starts in 2 weeks in Lodz, Poland.
Results 1. Jonny Walker KORR KTM 300 EXC 2. Graham Jarvis D3-Racing Husaberg 300 3. Alex Wigg Gas Gas UK Results Overall - Class
---
SuperEnduro Finland
Thanks to KTM Nordic, Jonny was invited to race the final round of their Endurocross and Supercross event in the city of Tampere, 150km north west of Helsinki .
Using the event to start preparing for the 2013 World Indoor Endurocross championship which starts December , Jonny jumped at the chance to also participate in their Supercross. After 2 days of training on the SX track we finally got JW's enduro bike dialed in enough to compete against the SX specialists, once again proving the versatility of a 300 EXC.
The Endurocross final was placed between the SX heat races and semi finals meaning that there was little time for rest and the bike set up would need to be changed slightly for both disciplines. The first objective was to qualify for the SX, no easy task with 45 riders chasing a place in the 15 rider final, many of which are regular GP riders or SX specialists.
In the SX heat races the first 7 riders would transfer direct to the semi finals, Jonny went through without any trouble.
Next would be the Endurcross race so we needed to fit lights, soften the suspension and tame the power a little, a shortened and modified SX track incorporating some log sections, an old Chevrolet van, Tractor tyres and cable reels, nothing too difficult but of course many obstacles to make errors. The race format would be similar to an enduro special test, each rider would make 3 laps alone against the clock and fastest lap would count. Local favourite and EWC regular Matti Seistola would take the first nights honors by a fraction of a second over Jonny.
After the Endurocross it was time to transfer the bike back to SX spec and go to the 13 lap Semifinals , JW made a good top 5 start and would hold the 6th and qualifying position until the very last lap and just lost a place when he thought he was safe in the final turns. So off to the LCQ and only the top 3 would transfer to the main, no mistakes this time and Jonny would qualify for his first ever SX final !!. However Jonny is still recovering from Glandular Fever, and after all the SX heat races and Endurocross he did not feel strong enough to race in the 20 lap final and sensibly decided to withdraw and save his energy's for day 2 and the Final Endurocross.
On Saturday night he would not participate in the SX heats and just prepared for the Endurocross, a decision that paid off as this time he would get the best time from Seistola and take the win.
Jonny Walker SHR KORR KTM 300 EXC - ď Firstly a big thanks to KTM Nordic for inviting me and loaning me a bike, the Endurocross and Supercross was great fun and training for me and the enthusiasm of the fans in Finland is amazing, I have had a great time and learned a lot from the SX specialists, i'm just a little disappointed that I could not race the SX final but very happy to have qualified, i'm still feeling very tired from this virus and I did not think it would be safe for me to race and more important that I should focus for the Endurocross, I hope I can come back next year in better shape for the SXĒ
Endurocross Tampere 1. Jonny Walker SHR KORR KTM 300 EXC 2. Matti Seistola CH Racing Husqvarna 3. Henri Himmanen Beta
Next Events: Tough One Little Brother , November 25th Keep up to date and follow via Facebook: www.facebook.com/jonnywalkerracing www.jonnywalkerracing.co.uk
---
KTM signs British talent Jonny Walker as Extreme Factory Rider
KTM is pleased to announce that the Austrian manufacturer has signed British Enduro talent Jonny Walker as a factory rider for Extreme Enduro disciplines. The 21-year-old has emerged over the past two seasons as a gifted rider in Extreme Enduro events and is considered by KTM as having great potential as a top competitor.
Jonny will compete for KTM in the 2012-2013 Indoor Enduro World Championship, the Extreme Enduro races such as the Erzberg Rodeo, The Tough One, Hells Gate, Red Bull Romaniacs an Red Bull Sea to Sky and some Enduro World Championships rounds. He may also start in the X-Games and some EnduroCross events if it is possible and appropriate to include them in his schedule.
Born in Cumbria, UK, Jonny graduated to Enduro after going through the ranks of trials riding where he won multiple championship titles. Looking to expand his riding skills he first bought a secondhand KTM 250 in 2010 and quickly made a name for himself with good performances in selected rounds of the British Enduro Championship. While his first season was cut short after a crash and subsequent injury, his name was already on the radar screen of KTM UK. Jonny agreed a deal with KTM UK for 2011 and for 2013 advances to the status of a KTM full factory rider.
Challenger to the top riders
Despite his youth, Jonny has already shown that he is a major challenger to the sports established top riders. In his first year of competition he enjoyed success at the World Indoor Cup, Hellís Gate, the British Enduro Championship, the British Sprint Enduro Championship and other top competitions. In 2011 he was also part of the ACUís junior Trophy team, which finished third overall at the International Six Days Enduro in Finland. He also finished fourth overall in the 2011 ISDE E3 class, finishing only behind the KTM factory riders.
Emergence at Erzberg
But it was at the notorious Erzberg Rodeo in Austria in 2011 that observers of his riding style really sat up and took interest when he finished the grueling ride up Austriaís Iron Mountain to finish third in his very first attempt. Then in 2012, he topped his previous performance at Erzberg by emerging as the winner. This victory also represented a generation change as it followed five consecutive Red Bull Hare Scramble victories on the Iron Mountain by KTMís Extreme Factory Rider, Taddy Blazusiak. Taddy, who was also Ďdiscoveredí by KTM at the Erzberg Rodeo, did not compete in 2012 because of his full-time commitment to the EnduroCross Championship in the USA.
Success in 2012
As well as his victory at Erzberg, Jonny has enjoyed great success during 2012, finishing second overall in the SuperEnduro World Indoor Enduro Cup, first overall in the British Extreme Enduro Championship and first in the British Sprint Enduro Championship. He also finished third behind veteran evergreens Graham Jarvis and Andreas Leitenbichler in the 2012 Red Bull Romaniacs and despite having been in hospital with Glandular Fever the week before the Red Bull Sea To Sky in Turkey, he won the Beach Race and was third in both the Mountain Race and the Forest Race.
Jonny Walkerís road to becoming a KTM full factory rider:
2000: 1st British youth trials championship and Pinnard Trophy winner
2001: 1st British youth trials championship
2002: 2nd British youth trials championship
2003: 3rd British youth trials championship
2004: 2nd British youth trials championship
2005: 2nd British youth trials championship
2006: 6th British youth trials championship
2007: 5th British youth trials championship
2008: 3rd British youth trials championship and 15th world and European championship
2009: 8th world and 4th European championship
2010: 5th E2 British Enduro Expert championship, season plagued with injury
2011: 10th Overall World Indoor Cup, 3rd Overall British Enduro Sprint Championship, 3rd Overall Erzberg Red Bull Hare Scramble.
2012: 2nd Overall SuperEnduro World Indoor Enduro Cup, 1st Overall British Extreme Enduro Championship, 1st Overall Erzberg Red Bull Hare Scramble. Winner British Sprint Enduro Championship, 3rd overall Red Bull Romaniacs. Red Bull Sea to Sky 2012: 1st Beach Race, 3rd Mountain Race, 3rd Forest Race.
---
Red Bull Sea to Sky
Kemer, Turkey
Well we could rename this event from our situation ďsick bed to skyĒ as for the UK's British Extreme champion there was some doubt that he could attend, cruel luck knocked Jonny down as he was admitted to Hospital for 3 days and diagnosed with Glandular fever just before he was due to travel, so at the last minute he was checking out of hospital and checking into Manchester terminal for Turkey hoping that the Mediterranean sea and Turkish sun would aid his recovery.
Fortunately some rest time at Kemer's holiday resort helped make a huge improvement in Jonny's condition . The 2 day extreme festival kicks off with the beach race and ill or not this is Jonny's domain, making a top 10 start amongst 130 hopefuls he took control of the race within the first lap, just as he had done one year before, over the next 20 minutes he was never challenged and cruised to the victory .
Stage 2 would be the forest race and a circuit of around 75 minutes around the outskirts of Kemer, having won the beach race JW would start in first position and open the course with all the riders following at 30 second intervals. A top 10 finish was all that was required to get a front row start for Sunday and he needed to just ride steady and conserve energy, JW just cruised home and crossed the line first but on race time would be awarded the third position as the following pack had chased him down and made up time.
The mountain race is the main course, starting from the beach in rows of 10 on Sunday morning the competitors have 6 hours to complete around 40 km and climb 2600 meters to the summit of Mount Olympus above the city. Saturdays racing had taken its toll and Jonny was more nervous and tired than usual, he knew that it was going to be a tough few hours ahead battling with the worlds best extreme riders and having enjoyed almost a week of sun and temperatures over 30 degrees the torrential rain came in a monsoon style!! the positive side was that the day would keep be cooler but also very slippy on the steep climbs.
Jonny set off with the intention to just give 100% and see what happens, go as fast and as far as his energy levels would allow, he made the holeshot but got confused about where the first turn was and lost some places as the riders entered the huge 100mtr wide riverbed which would take them to the foothills of Olympus and the real start of the Mountain race. Learning from last years mistake where he lead most of the race and used a lot of energy he decided to simply follow in the wheel-tracks of Jarvis, the pair could not be separated by more than 15 seconds for the next 2 hours , occasionally swopping places as each would make mistakes, playing a game of cat and mouse but the Worlds 2 best extreme riders pulled a good advantage over the field.
Jonny was performing much better than expected, his riding was smooth and in control and he looked very relaxed, he knew realistically though that he would need a big mistake or problem from Graham to think about winning, better to ride with the head and just stay out of trouble. The 2 rivals arrived in check point 17 almost together and it looked like there could be a grandstand finish, both guys tired, both focused to win, with just one very difficult goat track of around 3km and an elevation of around 800 meters to climb before the summit would be reached, both riders struggled, both got stuck and had to work extra hard in the mountain mist to keep on track and as we expected Graham would be victor again with Jonny a solid 2nd and KTM UK rider Paul Bolton in 3rd making it an all British podium.
Jonny Walker SHR KORR KTM 300 EXC - ď Well its been a great week in this town, I really did not want to fly here on Tuesday because I was feeling so ill and could not imagine at that time I could race, I am really surprised that I had enough energy to ride at a good pace and follow Graham , of course I want to win but I simply had no power to push in the race like I normally do, but for me this was a victory that I simply finished and a bonus to be so close to Graham, we had a lot of fun riding together and so happy to make the podium in all 3 stages of the event and of course win the beach raceĒ
Julian Stevens Team manager - ď Another great ride given the circumstances and it been an awesome event, he did not win on Sunday but proved to be the most consistent over the 3 stages, we could not have expected more and also great to help Paul Bolton to the podium , now Jonny will make a few weeks recovery and we start preparation for the Indoor World Endurocross championship where Jonny holds the no:2 ranking from his debut season and try's to go one better in the 2013 seriesĒ
Beach Race 1. Jonny Walker SHR KORR KTM 300 EXC 2. Xavi Gallindo Husaberg 300 TE 3. Andreas Lettenbichler Husqvarna
Forest Race 1. Graham Jarvis Husaberg 300 TE 2. Andreas Lettenbichler Husqvana 3. Jonny Walker SHR KORR KTM 300 EXC Mountain Race 1. Graham Jarvis Husaberg 300 TE 2. Jonny Walker SHR KORR KTM 300 EXC 3. Paul Bolton Eurotek KTM 300 EXC
Next Events: Helsinki Finland Endurocross November 10/11th
---
Jonny's Ready to Race !!!
North of England Enduro Championship
Photo John Lupton
Jonny Walker had a hugely successful and busy June, becoming the youngest rider ever to win Erzbergs Red Bull Hare Scramble and podium in his first appearance at Red Bull's Romaniacs Enduro, and to complete the month he took the first ever British Extreme Enduro championship title. But it all came at expense to his body condition, in training before Erzberg he damaged his shoulder and at the time it was not considered a problem, but in the penultimate day of the Romaniacs JW dislocated the same shoulder again !!.
But despite the shoulder damage he still managed with help of some good physio and clever strapping to win the final day of Romaniacs and place in 3rd position overall, then just one week later to win all 6 races at the British Extreme championship final to take the Title. Directly after the race JW took consultation with Red Bull's physio's and trainers it was decided that in his best interest's Jonny should make an operation on the shoulder joint. This was completed 10 weeks ago and he started riding carefully again just 4 weeks ago.
His progress thanks to extensive training and physio support from Red Bull is ahead of schedule and he managed his first race last weekend, a local championship with no pressure just to get back into a full days riding. The Graythwaite Enduro situated in the Lake District is no easy event and almost a mini extreme enduro by itself with a very challenging forest based course full of rocky climbs, but a great work out to measure JW's fitness level.
The event never troubled Jonny, completing the check times with ease and dominating all the special tests, in fact his first test with a clear run was 53 seconds ahead of his nearest rival and teammate James Dent !! After Four laps the KTM duo finished 1st and 2nd overall in front of other extreme specialists the Hemingway Brothers
Jonny Walker SHR KORR KTM 300 EXC - ď What a great Enduro and so good to be back on the bike, the course is challenging with no rest and ideal training for Extreme events, I had no issues and my shoulder feels great thanks to all the training I have been doing with Darren of Red Bull. Looking forward to my next race now which should be the last BEC round ď
Julian Stevens Team manager - ď Has been a great day for our riders, Jonny had a very good first day back to racing and our junior rider James Dent made his best ever result in a North of England championship round by finishing a great runner up with 3 very consistent test times.Ē
Results Graythwaite Enduro 1. Jonny Walker SHR KORR KTM 300 EXC 1478 2. James Dent SHR KORR KTM 250 EXCFi 1598 3. Ben Hemingway KTM Eurotek 1599 4. Dan Hemingway KTM Eurotek 1634
---
Eddy Extreme Enduro Championship
Adstone final
Fresh back from Erzberg and Romaniacs and there was no time to rest for the KORR team, straight into the final round of the Eddy Extreme Championship and all eyes would be on the close battle between Jonny and Graham Jarvis. Jonny started the last round with a 2 point advantage and both riders are on top form at this moment.
The final of the 3 round championship at Enduroland in Adstone would be very different from the previous rounds, the course a combination of a difficult very slippy Enduro loop with cambers, wooded sections combined with a superb outdoor Endurocross track made for a circuit of just over 3 minutes and great racing in all classes. The format would be 2 x 20 minute races on the full course followed by 2 x 10 minute races on the Endurocross track, all races to carry full points for the championship. Jonny started race 1 with a holeshot with his main rival Jarvis in hot pursuit, still riding with a shoulder injury from Romaniancs JW was riding defensive and a little tense, for several laps Jarvis kept the pressure on but in the last part of the race Jonny would open up a solid lead as he started to relax and find a good rhythm.
Race 2 would again see JW lead from the start but this time from lap one he was more confident and you could see it in his riding, in the first lap he pulled out a large gap on the rest of the field and nobody would get close to challenge him and again he took the chequered flag.
Race 3 would be using only the Endurocross circuit , this is Jonny's domain and he put on a masterful display with another start to finish win and with that have enough points to deservedly win the 2012 British Eddy Extreme Enduro Championship.
Race 4 was time to relax and have fun, again JW took the holeshot but Jarvis was in a much more determined mood, he managed to pass Jonny and the pair for several laps pushed each other to entertain the crowd, eventually Jonny found a gap in the last couple of laps to take another win.
KORR junior rider James Dent on his SHR KTM 250 EXCF also had a great day finishing 3rd overall and a solid top 5 position in the championship, riding in the expert class one of the best races of the day was between James and Richard Ely, the pair on identical KTM machinery fought for several laps in the final race for the lead, James couldn't get by Ely however hard he tried but second position was a fantastic recovery from an almost dead last start.
Jonny Walker SHR KTM 300 EXC - ď I'm really pleased to finish the day and surprised how well I went today considering I still have some pain from my shoulder I injured in Romania, its been a great month for me and thanks to all the team and sponsors , looking forward to a few weeks rest nowĒ.
Julian Stevens Team manager - ď This has been a great series with three very different rounds to test the riders in all areas, Extreme enduro is starting to become very popular with riders and spectators alike and thanks to the Fast Eddy team we now have a great domestic championship. Both our riders have really enjoyed the events and of course have done exceptionally well and congratulations to Jonny on becoming British Extreme Championď
Results Pro-Class, Adstone 1. Jonny Walker SHR KORR KTM 300 EXC - British Champion 2. Graham Jarvis Flight D3-Racing Husaberg 300 FE 3. Paul Bolton Eurotek KTM 300 EXC
Results Expert Class 1. Richard Ely Edmondson Racing KTM 250 EXCF 2. Tom Healy KTM 250 3. James Dent SHR KORR KTM 250 EXCF
---
Red Bull Extreme Enduro's Erzberg and Romaniacs
So far the month of June has been very rewarding for Jonny Walker and KTM, Starting with his second appearance at Erzbergs Red Bull Hare Scramble in Austria, where after last years strong performance he started as one of the favourite's and he did not disappoint.
Erzberg starts with 2 qualifying runs up the mountain's roads and a top 50 position is required to get on the front row of Sundays main race, The Prologue created some drama as previous 2 time winner and KTM Factory rider David Knight slid off on one turn and needed some medical treatment, unfortunately he could not take further part in the race. Jonny himself made a mistake in one corner when he spun completely around to make a full 360 turn !! however he was still 4th quickest, on the 2nd Prologue he made no such mistakes to unofficially top the pro class with a time 5 seconds quicker, however due to heavy fog on the mountain the 2nd prologue had to be canceled for safety reasons and only the result from day 1 would count.
Going into Sundays race Jonny was focussed and confident, with a year's experience behind him he knew exactly what to do, he made a great start in 2nd position and followed local Austrian KTM rider Lars Enockl for the first few Kilometers, when the chance came he took the lead before check point 1 and never looked back, Quickly opening up a solid lead of over 3 minutes on new 2nd placed rider Andreas Lettenbichler of Germany. Jonny was in determined mood, it was important to reach the difficult forest sections first and have a clear run, mistakes and queuing on the steep and slippy single tracks are very costly and he made a clear pass this year without any problems.
Once reaching the summit of the Iron Mountain the course becomes quick again using some of the prologue roads and the famous rock sections start such as ďMachine HillĒ ďCarls DinerĒ and ďDynamiteĒ , just when energy levels are depleting the course becomes more demanding, Jonny made a couple of small mistakes and took a heavy fall entering ďCarls DinerĒ but he knew that he had more than 15 minutes lead on veteran multi World Trials champ Dougie Lampkin so he could relax and take it easy to the finish line where he eventually arrived with a huge 24 minute advantage to become Erzbergs youngest ever winner !!
Results Erzberg Red Bull Hare Scramble 1. Jonny Walker SHR KORR KTM 300 EXC 2. Dougie Lampkin Gas Gas 300 3. Ben Hemmingway KTM 300 EXC
Jonny Walker SHR KORR KTM 300 EXC - ďI just want to say thanks to my team, sponsors , KTM and Red Bull for helping me get to this level, the race went better than expected for me , the bike was working really good and the only issue I had was when I went over the bars and hurt my neck, from last year we have learned so much and its so much easier when you know what to expect and how to prepare for such a race, looking forward to the next race now ď
Romaniacs, Sibiu 13-17th June Known as the Worlds toughest Hard Enduro-Rallye in the Carpathian mountains above the city of Sibiu , this event would bring a lot of new challenges to Jonny, we went there to learn, to prepare for the future and hopefully make a top 5 results. Romaniacs requires navigational skills to back up the course marking, its 4 long off-road days whith very little support from the services teams and really can be described as Extreme Rallye. Day 1 is the prologue , an extreme course down one of the cityís main roads just outside the center, 8 riders at a time would take on the challenges of rocks, logs, jumps and many man made hazards, with practice, qualifying and heat sessions. This is Jonny's domain, just like endurocross and he put on solid and dominant displays to top every session and comfortable win the evening final with a 4 second advantage.
However winning the prologue is not an advantage for a rookie in the main race, the prize is you get to start 5 minutes before the next guy on the first day of the Rallye , not ideal when you have no GPS and navigational experience, but we didn't come to this race with any tactics to win, just to learn and do the best possible each day and winning the prologue in front of thousands of spectators was worth the sacrifice. Quite soon after the start and following a few wrong turns JW decided to hang back and follow the others, learning from his experienced rivals was vital and he shadowed them most of day 1 until he thought he could navigate by himself, again he made a costly mistake and followed route markings from a different class which cost him a lot of time but taught him a huge lesson.
Days 2 and 3 went without problem on the course, JW finishing in the top 3 and starting to feel more confident with his navigation, a slight error on day 2 brought drama when he slept in and was late to the start, getting up at 4.00am each day was something that Jonny needs to train for also !!! despite leaving for the official start with no breakfast, half asleep and more than 30 minutes behind the rest he only lost 1 minute from his official start time !! and another lesson learned.
Day 4 and Jonny had to push, his KTM Teammate Chris Birch was starting to recover from an earlier injury and the former winner was pushing hard to challenge Jonny for the final podium position, at the midday check Birch had pulled back just 1 minute on Jonny, who needed to make some repairs and replace a front pipe. Fitting a new exhaust is always bad luck for JW and sure enough 10 minutes down the road he hit a tree, the pipe being completely flattened and reducing the bikes powers to that of a learner bike, in the extreme sections the bike was working well with nice easy power and Jonny managed to catch Chris who had started 9 minutes ahead so his podium was safe, until drama at the finish. With no service point and possibility to replace the exhaust the final involved a very steep hill climb, there was chicken runs for the lower class's but the Pro's had to reach the Red Bull arch, even Jarvis struggled near the top !! Birch started in front of Jonny and reached the top with no problem, however Jonny just did not have enough power to climb the hill, the bike sounded very sick and only after 3 attempts could he push the bike out of the top loosing vital time but still winning the final day by 6 minutes from Chris and becoming the youngest ever rider at just 21 to stand on the podium at Red Bull's Romaniacs.
Results Romaniacs 1. Graham Jarvis Flite Husaberg 300 2. Andreas Lettenbichler SpeedBrain Husqvarna 300 3. Jonny Walker SHR KORR KTM 300 EXC
Jonny Walker SHR KORR KTM 300 EXC - ď I'm really surprised with my result, to be honest all my preparation was focused for Erzberg so I was not really organised for the Navigation here , but I learned some good tips early on and managed ok, I really enjoyed my time in Romania and the event is amazing, I need to prepare better next time and hopefully in the future I can make a better result here, again thanks to all the KTM team who helped, especially Fritz, Roland and JulianĒ
Julian Stevens Team manager - ď For the last year and a half we have been working very hard with Jonny, he has improved so much and the results are for all to see, I think Erzberg is a turning point now and he will have confidence to fight for the win at many more events, he has made every podium in extreme enduro so far which is remarkable in any sport but for such a young rider in the unpredictable world of extreme enduro racing it is amazing and just shows what talent he has , we now start to focus on regular Enduro championships and the Red Bull 6 days in Germany, thanks to everyone who put faith in what we do and JonnyĒ
---
UKís Jonny Walker takes coveted Red Bull Hare Scramble
KTMís UK factory rider Jonny Walker delivered a sensational ride up Austriaís Iron Mountain on Sunday to seal victory in the notorious Red Bull Hare Scramble on Sunday in what is considered the worldís toughest one-day Hard Enduro competition. It was only the 21-year-old riderís second start in the classic endurance event.
In the absence of five-times winner, KTMís Taddy Blazusiak who was competing in the EnduroCross World Championship second round in the USA this weekend, Walkerís victory also signaled the passing of the mantel to the next generation of great KTM riders. Walker not only won the mighty race, he did it in style and with an impressive winning margin of around 20 minutes from second placed Dougie Lampkin (Gas-Gas).
The race lived up to its international reputation for delivering not only stunning racing from the worldís toughest riders but also an element of drama. Of the 500 starters only seven were listed as official finishers when fog caused the race to be halted after three and a half hours instead of the usual four-hour limit. Six of the seven official finishers were on offroad bikes by the Austrian manufacturer.
Walker was the third fastest in the prologue and thus was in the first wave of riders to tackle the terrifying slopes of the Austrian iron ore mountain and by the first corner he was tucked in behind Austrian KTM rider Lars EnŲckl. The two then proceeded to distance themselves from the rest of the field in the first of the 25 km. Behind them were Hare Scramble evergreens, Graham Jarvis of Britain and Germanyís Andreas Lettenbichler.
By the time the TV cameras had captured a glimpse of Walker 30 minutes into the race he was in the lead while Lettenbichler was hunting down Lars EnŲckl. Then just minutes later came the dramatic news from race officials that both Lettenbichler and Jarvis had been disqualified for missing an entire terrace in the high-speed section ďRosinaĒ. Neither rider saw the announcement and continued on racing.
Some 50 minutes later Walker was at Checkpoint 13, the dreaded ďCarlís Dinerď where he took a spectacular dive over the handlebars in a section of rocks that is totally unforgiving in the face of rider errors. But he quickly regained his composure and pressed on. Meanwhile EnŲckl was being hunted down by Lampkin, who chose another line to overtake him, deploying all of his skills as a much rewarded trials champion.?
After 1 hour 15 it was Walker, EnŲckl, Lampkin, Ben Hemingway and Paul Bolton but with the two disqualified riders still battling it out. Jarvis was first to the finish only to learn his efforts were for nothing and three minutes later Walker claimed the victory.
Jonny Walker: ďI knew that Jarvis had been disqualified and in the final part I didnít take any risks. I was simply too fast at Carlís Diner and I hurt my back a bit when I went over the handlebars. Itís simply fantastic to be the winner in only my second start here in Erzberg.
Alex Doringer (KTM Team Manager): ďItís just great for us that such a nice young guy like Jonny walker has won here. We really knew he had improved since last year. We already knew that before the race and thatís why we were counting on him. What we didnít know is just how much he had improved and that surprised everyone. Last yearís fifth win by Taddy Blazusiak was already sensational. Now we have another great winner!Ē
Results Erzberg Rodeo Red Bull Hare Scramble 2012
1. Jonny Walker (GB), KTM 300 EXC, 1:41 h
2. Dougie Lampkin (GB), Gas-Gas, 2:05 h
3. Ben Hemingway (GB), KTM 300 EXC, 2:17 h
4. Paul Bolton (GB), KTM 300 EXC, ? h
5. Taichi Tanaka (J), KTM 300 EXC, 3:00 h
6. Lars EnŲckl (A), KTM 300 EXC, 3:05 h
7. Dan Hemingway (GB), KTM 300 EXC, 3:17 h

---
British Sprint Enduro Championship
Enduroland, Adstone
The circuit at Enduroland is without doubt the best one of the series , giving great variety and is much closer in layout to a real enduro special test, a 10 minute loop incorporating a very basic man made extreme area , flowing grass fields and some gnarly root infested wood sections.
Jonny now fighting fit after his recent injuryís and illness hoped for a strong performance to make up for a disappointing last sprint round in Wales where he struggled with a lack of energy. From the start he was on the pace and fighting hard with Alex Rockwell for the Under 23 class lead, recent wet weather had made the track super slippy, with each run the circuit would slowly dry out and each test becoming quicker, unfortunately the organisers cut out the extreme section mid way through day one and of course this is one area Jonny can make time, but in throughout the day no more than a second would be the difference between Jonny and Alex on each test, with a couple of exceptions when Jonny slipped off the bike which eventually handed Rockwell a 20 second winning advantage.
We made some overnight setting changes to the bike and started day 2 in a more confident mood, however we had noticed that on Saturday Danny McCanny was upping his game and we were not surprised that he would be the biggest threat on Sunday, Jonny dominated the early part of the day winning most of the under 23 tests and also sitting in 2nd overall for the scratch. Entering the last test Jonny held a 10.9 second advantage over Danny, he knew that just a safe solid run was enough to win the day, but cruelly a tree root claimed his front wheel in the wood section costing him 13 seconds and Danny would put in his best test of the day and take the days win by a mere 2 seconds after over an hours racing!!
Jonny Walker SHR KORR KTM 300 EXC ď Well I have enjoyed the course and had 2 good days racing, obviously i'm really cheesed off to throw away the win, but with a 2/2 result I got the under 23 class overall win and more importantly i'm feeling much better and stronger than recent events, so i'm really look forward to the next race and hope I can win that one !! ď Report
---
British Sprint Enduro Saints Well
After dominating the Under 23 class at the previous round Jonny was less fortunate at the latest event. set in the heart of Wales this course had everything to test the riders, from an MX track to off cambered fields, wood sections and even some good old fashioned Welsh bogs !!. The weather would be cold with showers making the track quite slippy at times but overall in very good condition.
Jonny started in a reasonably confident mood, despite suffering most of the week with a cold he set 2nd fastest time just 2 seconds behind the leader on the opening lap, followed by an overall position on lap 2 and now leading the Under 23 class. But the 3rd test would be disastrous when he slid outside the tapes, not a big mistake but unfortunately some fencing wire hidden in the long grass hooked around his footrest stopping him dead and launching him clean over the handlebars !! this cost him over 30 seconds and effectively put him out of the chase for first. The top 3 under 23 riders were only separated by a few seconds each lap, a deficit of over 30 seconds was just too much with only 5 tests remaining and with his weakened body from the effects of a cold he just could no longer fight with the front runners and simply salvaged 3rd place.
Day 2 and feeling much stronger Jonny started again his fight with Alex Rockwell and Danny McCanny, Rockwell was just too strong on Sunday and controlled the race at the front, but Jonny battled hard with McCanny trading positions, going into the final test just 3 seconds after 1 hours racing separated the pair, but this time McCanny would take the advantage on the final lap and again Jonny would have to settle for 3rd .
Jonny Walker SHR KORR KTM 300 EXC ď To be honest i'm disappointed in this weekend, the course was great and should have suited me, but I simply had no power in my body and just could not ride at the speed I wanted, I just didn't feel comfortable or confident and with a little bad luck on Saturday it cost me any chance of beating Danny or Rocky on Day 1, both Danny and Rocky were going very well and of course I need to be in perfect condition to battle with them ď
Julian Stevens Team Manager ď After walking the course Friday I was optimistic that Jonny could make a very good result as the circuit looked more traditional cross-country than MX style, in the first few tests he was looking favourite until he got tangled in some wire. If you look at all the class results it was the riders with most MX experience who did the best, these sprint enduro's are very fast, mostly single lines and everyone is just riding in the same ruts, the same lines, those who can ride best the braking and acceleration bumps perform the best, if you look at the test times even though the tests are long, all the top riders are so close together, its very competitive and you need to have everything dialed in perfect and be consistent to win, its good training and great racing. Another good ride from our Under 19 junior rider James Dent who continues to improve each week on his little KTM 4 stroke , taking another well earned 3rd place and most importantly closing the gap on the riders in front and extends his lead in the Under 19 SE1 class. Ē
Result Day 1 Under 23 Class 1. Danny McCanney Gas Gas 300 2. Alex Rockwell Husaberg TE 250 3. Jonny Walker SHR KORR KTM 300 EXC Result Day 2 Under 23 Class 1. Alex Rockwell Husaberg TE 250 2. Danny McCanney Gas Gas 300 3. Jonny Walker SHR KORR KTM 300 EXC Overall Result 2 Days Under 19 Class 1. Steve Holecombe KTM 250 EXC 2. Joe Wootton Kawasaki 250F 3. James Dent SHR KORR KTM 250 EXCF
---

FIM SuperEnduro World Championship - Barcelona
After a few good days testing and training in Spain with the KTM factory Enduro team Jonny felt confident and ready for the final of the 2011/12 FIM SuperEnduro Indoor Championship in Barcelona.
Going into the final round Jonny was holding second place in the series with a small 2 point advantage over Husaberg factory rider Joakim Ljunggren.
In the qualifying race Jonny made a poor start but quickly came through the pack on a track which did not create good racing, the circuit was strange, quite fast and easy with the exception of one point which can only can be described as a sandy bog after the water section, this area caused most of the nights crashes and problems. The deep sandy rutted turn claimed Jonny when he crashed with another rider, he damaged the bike and had to withdraw from the qualifying race which would give him last gate choice for the finals.
Heat one and JW started from the second row , running outside the top 10 on lap one, he quickly moved up the leader-board picking off riders each lap until the race was red flagged due to another big pile up after the sand section !!!. The race was re-run and Jonny had a tense performance to finish 6th, unfortunately his main rival Ljunggren made 3rd position which demoted JW in the championship back to third.
Heat two and Jonny would make no mistake at the start, he powered his KTM 300 EXC to a holeshot and quickly pulled out a good advantage, however in the later stages he clearly slowed as he became tired and allowed Spanish rider Alfredo Gomez to get very close, the pair battled for 2 or 3 laps until finally Jonny took a well earned win .
The final race would see Jonny start again from the second row , he moved up to a top 5 position and just made a steady ride to the finish as his main rival Ljunggren was back in 8 or 9th position.
JW's three consistent performances gave him second overall for the nights racing, even though the organisers made a mistake and awarded another rider 2nd on the podium !!, but most importantly Jonny managed to hold onto the Championship 2nd position.
Jonny Walker SHR KORR KTM 300 EXC ďAfter crashing in qualifying the night did not start well, damage to the bike meant I had to stop and therefore I did not earn a good gate choice for the finals. Because of this I felt under pressure and was riding very tense all night, the battle between me a Joakim was very close and he actually beat me in the first race which only made it more difficult for me, in the end I got the result I needed and it was great to win one race, but i'm a little disappointed in the way I rode tonight, I would like to thank all the people and sponsors who have helped me earn this resultĒ
Julian Stevens Team Manager ďThis was I very difficult night for Jonny, with holding 2nd in the Championship it created a situation in which he had to perform and would test how he could race under pressure to keep his place. The night did not go easy, but at this round most of the riders suffered some bad luck and it was Jonny's consistency and race win which made the difference, he did a very good job tonight and certainly worked very hard for his runner up championship placeĒ
Result Overall 1. Taddy Blazusiak KTM Factory Racing 350 EXCF 2. Jonny Walker SHR KORR KTM 300 EXC 3. Alex Salvini Husqvarna 310 SuperEnduro Championship Overall 1. Taddy Blazusiak KTM Factory Racing 350 EXCF 2. Jonny Walker SHR KORR KTM 300 EXC 3. Joakim Ljunggren Husaberg Factory TE 300
Next Event:- 11/12 Feb, British Sprint Enduro round 1
---

FIM SuperEnduro World Championship
Round 2 Lods Poland
Photo Jonty Edmunds
Round 2 of the World Indoor SuperEnduro series traveled to the city of Lodz in Poland last weekend, the first time International Endurocross would be staged in Poland, held at the excellent Atlass Arena. The organising club should be congratulated on an enthusiastic and great show, the circuit was once again very fast with a Lap of just over 44 seconds, the racing was spectacular and how it should be, Endurocross in my opinion should not be a speed trial , it should be about racing over off-road obstacles at speed and entertaining the crowd with close racing, and so far.the new championship has delivered this.
Jonny arrived in Poland full of confidence from his recent double victory at the UK's Fast Eddy Extreme championship , also midweek we had made some improvements to our bike setup, changing the power characteristics of the engine to better suit the intense racing of SuperEnduro.
Early practice sessions showed that the racing would be close with most of the fast guys separated by only 2 or 3 seconds, in fact the top 5 where all within a second a lap. After JW22's top 5 result in round 1 the FIM seeded him through to the finals, this means that he can save energy and the bike for the most important races of the evening, the 3 finals. For the seeded riders there was a 6 lap qualifying race to decide gate choice, local hero Taddy Blazusisk 350 KTM made the hole-shot with JW in hot pursuit , the 2 KTM riders moved ahead of the pack and and just 3 seconds separated them at the finish. In the first of the 11 lap finals, once again Blazusiak would lead while Jonny had to battle from a 5th place start with Ivan Cervantes, Xavi Galindo and Joakim Ljunggren, but within a few laps once again JW would take control of 2nd place and closed in on Taddy but not enough to make a challenge and settled behind the champion and local favourite.
Race 2 would be very interesting , 16 riders on an 8 gate start !! With the starting order reversed as per FIM rules the fastest guys would join the start last and at the back on the second row !!! Amazingly both Taddy and Jonny made very good starts and both quickly moved through the field , before half distance they where both out front again with Taddy taking his 2nd win of the night and Jonny runner up. Race 3 and starting order returned to that of qualifying , Jonny actually made the hole-shot on his 300 KTM but as Taddy had the inside gate pick he was forced wide in turn one and came out around 5th, within 2 laps he had disposed of Cervantes and Galindo and moved up to Ljunggren. Lap after lap JW pressured the Swedish vice champion , but he never made a mistake or gave Jonny any possibility to pass and the Husaberg ace took 2nd with JW 3rd.
Jonny Walker KTM 300 EXC " really stoked with tonight's result , a memorable night for me as I took my first indoor podium, the track was good and the crowd amazing even though they wanted Taddy to win they gave me good support too, really looking forward to coming back here and of course I can't wait for the next round in Barcelona."
Julian Stevens Team manager " Actually surprised with what a great job the organizers did here at their first attempt, this was a very good Indoor Enduro with awesome racing and hospitality , SuperEnduro just keeps getting better, once again JW exceeded expectations and we are now in a very good position to finish the championship in Barcelona next February inside the top 3, after tonightís result Jonny has moved up to 2nd in the championship, we have a few weeks now to make further improvements and hopefully find a bit more speed, it would be nice to win at least one heat of this series".
Results Ė 2012 FIM SuperEnduro World Championship, Round 2
SuperEnduro Final 1 1. Taddy Blazusiak (KTM) 08:24.733; 2. Jonny Walker (KTM); 3. Ivan Cervantes (Gas Gas); 4. Joakim Ljunggren (Husaberg); 5. Alex Salvini (Husqvarna); 6. Xavier Galindo (Husaberg); 7. Cristobal Guerrero (KTM); 8. Alfredo Gomez (Husaberg); 9. Dougie Lampkin (Gas Gas); 10. Mike Hartman (Husaberg)Ö
SuperEnduro Final 2 1. Taddy Blazusiak (KTM) 8:23.782; 2. Jonny Walker (KTM); 3. Xavier Galindo (Husaberg); 4. Joakim Ljunggren (Husaberg); 5. Ivan Cervantes (Gas Gas); 6. Mike Hartman (Husaberg); 7. Cristobal Guerrero (KTM); 8. Alex Salvini (Husqvarna); 9. Dougie Lampkin (Gas Gas); 10. Alfredo Gomez (Husaberg)Ö
SuperEnduro Final 3 1. Taddy Blazusiak (KTM) 08:18.218; 2. Joakim Ljunggren (Husaberg); 3. Jonny Walker (KTM); 4. Alex Salvini (Husqvarna); 5. Xavier Galindo (Husaberg); 6. Cristobal Guerrero (KTM); 7. Ivan Cervantes (Gas Gas); 8. Mike Hartman (Husaberg); 9. Alfredo Gomez (Husaberg); 10. Dougie Lampkin (Gas Gas)Ö
Next Event:- British Extreme Championship Rd2, January 2012 Ė Tong, Leeds
---
British Extreme Enduro Championship
Rd 1 Buxton, Derbyshire KORR release Photo Tim Tighe
There is no doubt that Britain has many of the best Extreme riders in the World and to cater for these and the popularity of this growing sport the ACU and Fast Eddy team have created a new 3 round British Extreme Championship.
On form Jonny Walker arrived in Buxton determined to upset the established order and show his intentions to be a serious contender for this Championship, no easy task when you consider the experience and reputation of his main rivals, Graham Jarvis who has won almost every extreme this year and multi world champ David Knight who has won everything in off-road, not to forget several other great extreme riders capable of causing an upset.
The event run from Cowdale Quarry allowed for an excellent course and great viewing, lots of stony climbs similar to a mini Erzberg, several rock and boulder sections and all joined together with some fast trails. The 30 minute practice session went OK for Jonny, he experimented with different line options and never really got a clear run to put a fast lap in, but still managed 3rd fastest and to test that his bike was set up perfectly.
The qualifying time decides what row you start on, 5 riders a minute at 10 seconds intervals, so 3rd was good enough to start with his rivals. At 11.45 the first race would be flagged away, Knighter took the holeshot with Jonny quickly in tow, they would lead the first lap until DK failed to make one of the hills and blocked the way for Jonny causing them both to return to the bottom, Jarvis seized an opportunity to lead but the KTM duo quickly resumed battle at the front. Its been a long time since anybody pushed DK or even ran the same pace at an extreme, but Jony simply did that, he shadowed him and then on the 2nd lap Knighter got stuck in the rock section, Jonny just floated by and took over the lead.
For the next lap it would be DK chasing the young Cumbrian until DK got caught up with back markers and went over the handlebars and damaged his bike, Jonny took advantage of the situation and without pressure opened up a 2 minute lead on now 2nd place rider Graham Jarvis, in fact Jonny was running such a pace that he lapped every rider but Graham in the hour long race and comfortably took the chequered flag. With just over an hour between races all the KORR KTM needed was fuel and a clean, everything was working perfect so no adjustments necessary. The the snow and rain started, the day became bitterly cold and certainly extreme weather to go with the extreme course, not that it affected Jonny. Full of confidence from race one he lined up for the second moto with the intention just to follow DK who would be sure to make amends for his first race failure.
As predicted DK from the inside gate took the lead with Jonny tagged on behind, the two KTM riders just in the first lap pulled over a minute on the rest of the field. They entertained the crowd as they swopped positions several times and were clearly in a class of their own, again Knighter failed to make one climb and Jonny took the lead and put the hammer down opening up a good lead, eventually DK made one mistake too many and damaged his bike and had to stop. Again without pressure Jonny took control of the race and pulled out a solid lead to win the second race and take maximum points at round 1 of the new Extreme championship.
Jonny Walker KTM 250 XC ď Both races went easier than expected for me, today for once I had good luck , I made less mistakes than the others and I felt really confident on my bike, the course was far from easy, especially getting around the slower riders and when the snow came it was so cold, thanks to everyone that helped and cheered me on, its a great feeling to be leading the championship with maximum points ď
Julian Stevens Team manager ďI'm very satisfied and pleased, apart from the weather it has been a perfect day, our KTM 300 performed great and Jonny rode two very smart races, i'm sure he surprised and impressed many people here today with his speed and technical skills, the spectators enjoyed several action packed laps when Jonny and David traded places and raced together, I think nobody expected that anyone could run Knighter's pace, it will be a very interesting championship nowĒ
Results:
Race 1 1. Jonny Walker SHR KORR KTM 300 EXC 2. Graham Jarvis D3-Racing Husaberg 300 TE 3. Tom Sagar Gas Gas 300
Race 2 1. Jonny Walker SHR KORR KTM 300 EXC 2. Graham Jarvis D3-Racing Husaberg 300 TE 3. Tom Sagar Gas Gas 300
Adults - Qualifier - Race 1 - Race 2 - Overall Youth - Qualifier - Race
---

FIM SuperEnduro World Championship
Round 1 Genoa, Italy
Photo Jonty Edmunds
Formerly the Indoor World Enduro Cup the World Endurocross championship backed by the FIM has a new name and image for the 2012 championship - ďSuperEnduroĒ . The first round this last weekend being hosted in Genoa, Italy lived up to the new name, maybe one of the best designed circuits so far in Endurocross, which combined a fast supercross style circuit with technical offroad hazards all of which made for some great action.
Jonny made his debut this weekend as a factory supported KTM rider in a 3 man team with current World and USA champion Taddy Blazusiak and Spanish E2 EWC rider Cristobal Guerrero.
From the start in practice Jonny looked comfortable on the fast track and topped his group with a lap time 5 seconds quicker than his nearest rival, so qualifying for the main event should have been just a formality !!. But nothing is predictable in Endurocross and thatís why its so popular with the spectators. Jonny made a bad start in his heat race and had to work his way to the front, with just one lap to go he made a move for the lead and crashed, unable to quickly remount and start his bike he lost places to end up in 3rd and failed to qualify, so again off to the Last Chance race. If Jonny felt the pressure of the situation in the qualifying race then it was only going to be multiplied for the LCQ Ė Only the winner goes to the main race !!
JW made no mistake in the LCQ, quickly taking the lead and opening up a safe distance on 2nd to go through to the final, qualifying by the LCQ is a real disadvantage, you get last gate pick for the finals and you are more tired for the main races which start very soon after the LCQ.
Once again in the first of the 3 final races Jonny did not make the best of starts, almost dead last in a group of the worlds best Endurocross riders, however Jonny really came to form, putting in consistent lap times only bettered by the champion Blazusiak , Jonny slowly worked his way to the front and on the last lap moved into 2nd position but with just 2 corners remaining, he caught a group of 3 slower backmarkers who halted his progress, JW made a pass to the right side of the group in the last rock section before the final jump but fellow KTM teamate Guerrero got a clearer line to the left and as the pair crossed the finish jump together it was Guerrero which would win by 0.05 of a second !!!. this would eventually cost Jonny 3rd position overall for the night even though he beats his teammate in the next two finals.
The final two races of the evening where not quite so rewarding for JW, bad starts and some incidents would mean he would only achieve 5th and 6th positions , but this was enough to give him equal 4th in the championship and only 1 point from 3rd.
Jonny Walker KTM 300 EXC ď This track was so different from USA last week, some very fast sections and more opportunity to pass, I really enjoy the faster circuits, I was disappointed with my starts tonight, usually I am confident to be in the front and every time I was almost last which cost me a better result, but overall I am pleased to start the championship in a good way and confident about the next races ď
Julian Stevens Team manager ďJonny showed great potential tonight, we hoped before the start for a top 5 result and actually we could have been top 3 so this is a very good start to the championship , I am very optimistic for the next rounds, we learn a little more each week and we hope to arrive in Poland in even better condition , many thanks to all sponsors and especially to KTM Factory team Ē
Results: 1. Taddy Blazusiak Red Bull Factory KTM 350 EXC 2. Joakim Ljunggren Husaberg TE 300 3. Cristobal Guerrero KTM Factory Racing 250EXC 4. Xavier Galindo Team Husaberg TE 300 5. Jonny Walker KORR KTM 300 EXC 6. Alex Salvini Husqvarna 7. Cody Webb Beta 8. Alfredo Gomez Husaberg 9. Ivan Cervantes Gas Gas 10. Dani Gibert Husaberg
Next Event:- 3rd December, Rd 1 Fast Eddy Extreme Championship, Derbyshire
---
Las Vegas Endurocross
KTM USA and WORCS champion Kurt Caselli kindly invited Jonny Walker to attend the final round of the America Endurocross Championship in Las Vegas at the Orleans Arena.
JW jetted in just over a week before to prepare himself and make some practicing with Kurt and his friends, the Indoor World Enduro Championship starts this week so the Las Vegas event was really important to prepare for that.
Jonny riding a KTM 250 XC instead of his usual 300 showed good promise in the practice sessions and made 3rd fastest time behind Cody Webb and Taddy Blazusiak. After practice each rider makes just one hot lap to decide gate position for the qualifying heats, a slight mistake in the rock section dropped him to 6th fastest but still a good position to gain a decent starting position in one of the 3 qualifying groups. The start in Vegas is very short and directly into a 180 degree bend, almost every race was won from a hole-shot and as the track is so tight and gnarly and passing difficult the start is everything.
So in his heat race he got second pick on the gate behind series number 2 KTM's Mike Brown, Browny made the hole-shot with Jonny in hot pursuit, these two pulled a small gap on the rest of the field and it looked like Jonny would easily qualify , but he stalled in the rocks and got jammed up, he dropped to 4th positions and could only return to 3rd by the flag, not good enough as only top 2 go to the final.
So now we had to make the LCQ race and JW got a terrible gate choice and even worse start, but he quickly worked his way to the front, the racing was desperate in the LCQ with all riders nervous and making many mistakes, Jonny described it as the messiest race he had ever done, he also made mistakes and dropped back but In the later stage put in several solid laps to move up to 2nd and right behind the leader, good enough to join the nights two final races.
With qualifying from the LCQ it meant Jonny was almost last to join the start line and had to start from second row !!! he hoped to squeeze up the inside on the first turn, but other riders cut him off and he got hooked up in the tyres, but he pushed hard from almost last to each lap pick riders off and eventually made 6th position.
In the second final he was not so lucky, in the first turn other riders crashed and JW got caught up with them, another start from the back and several other small incidents meant he could do no better than a disappointing 10th
Jonny Walker KTM 250 XC ď I have really enjoyed my time in USA, I must give special thanks to Kurt Caselli and KTM USA for giving me this chance, I hope I can come back next year and make a better result, my riding was good but I just suffered with more than my fair share of mistakes, the racing is so close and aggressive out here and everybody is making mistakes, its a case of limiting them ď
Julian Stevens Team manager ďThis was a great experience for JW and excellent preparation for the Indoor World Championship, it would have been nice to have been closer to Taddy and we never got chance to race against him, he was on top form and we congratulate him for another championship, I hope that in Italy this weekend when Jonny is back on his familiar 300 he can be fighting for the podium, thanks to all the American supporters and helpers who made us all feel so welcomeĒ
Next Event:- Rd 1 Indoor World Enduro Championship, Genoa, Italy November 26th
---
Iron Man Extreme Enduro
Photo Tim Tighe
One week after racing Super-Cross at Sheffield Arena Jonny and the KORR team headed to North Yorkshire for more familiar territory, Extreme Enduro.
Near Scarborough the Harwood Dale venue is perfect for any off-road event, previously hosting MX, Enduro and Trials events. A natural woodland course containing, boulder filled gulleys, steep descents, rock slabs, river crossings and several man made obstacles , just about everything needed to challenge any rider.
The event would be run in 2 parts, a morning 90 minute qualifying race followed later in the day after the Speed Trial with a 2 hour Extreme Enduro. Jonny made light work of qualifying race , from the start he took control with a holeshot and was never threatened, opening up a lead of over 2 minutes on lap one, behind him MX riders Jamie Law and Jake Nichols battled with Veteran extreme rider Wayne Braybrook who would finish 2nd to Jonny.
The main event would not go so easy, Jonny was just entering the first turn and looked like taking the lead again when another rider who thought the course went straight on took him out !! fortunately neither rider or bike was damaged and they remounted towards the back of the pack. Within a lap Jonny was back in control and had passed every rider except for Braybrook , but by lap two he came around with a lead of around 2 minutes which he improved to nearly 4 minutes by the 1 hour mark. In the final half of the race Jonny just rode steady to keep a safe distance over Braybrook and took the win of the first running of the Iron Man Enduro.
Julian Stevens Team Manager ď A great event and what a superb venue, the organising club created a circuit with great variety, a course which was manageable by most but tough enough to test the best at times, we certainly look forward to going back. Jonny again rode very well and it was good training for the up coming British Extreme Championship. ď
Next Event:- Las Vegas Endurocross November 19th
---
Sheffield Super-Cross
FWSX British Championship Rd1
Jonny Walker and fellow KTM MX buddy Jamie Law laid down a challenge to each other, to try each others disciplines, J-Law25 would race an Extreme Enduro if Jonny would race SX !!.
So with the Gaunlet thrown down, Jonny set about preparing for SX, a days practicing on a local MX track and we had his 250SX dialed in, all that was needed was some minor adjustments to his suspension and jetting, and off we set for Sheffield Arena.
First round of the British Supercross championship is of course ďIn at the deep endĒ, but as Jonny has proved all season he's not afraid to mix it with the best at any races, his first practice was a cautious start, slowly building confidence on the track and getting the bike dialed in , actually our Enduro based suspension was now too stiff !! some fine tuning and the bike was perfect for the second 5 minute training session, JW looked far more at home and with his first 10 minutes of real SX training safely under his belt we could look forward to Qualifying heat one.
He would need a top 3 place to make the final and our group had some pretty good names in it, not only the reigning UK SX champ Tom Church but also British MX champ Brad Anderson, not to mention several other top UK MX pilots. JW34 made a reasonable mid-pack start and within a lap or two moved in to 5th and was running very similar pace to the leaders, but on a very slick and slippy circuit his 2 stroke just struggled to hook up out of some turns , and although he was all over 4th place, he just could not get the opportunity to pass.
So we did not qualify, but we gained more valuable experience and fined tuned the bike more for the Last Chance Qualifier race, also JW's friend Jamie failed to qualify in his group, he was holding 3rd on the last lap and with one corner to go crashed because of a front wheel puncture !!. So the two Cumbrian's would get to race each other, but only ones goes through from the LCQ !! and with such names as Stephen Sword, Gordon Crockard, Neville Bradshaw it looked as if the LCQ would be tougher than the Qualifying race.
Jonny made a terrible start, second to last !!! but amazingly within a couple of laps he made several passes and had caught up to Jamie who was in 3rd , each outing and JW looked more at home on the SX track and was now carrying some very good speed, not at all outclassed by his MX rivals, then Gordon Crockard running in 2nd made a mistake and went off track, Law passed by but Jonny missed out. Crockard came back on track in front of Jonny which caused him to loose some distance to Jamie, Jonny kept the pressure on Crockard to the flag for an impressive 4th position, he did not qualify but took consolation in the fact that he had rode very well and been able to mix it with the specialist's.
Jonny Walker KTM 250 SX ďI really enjoyed that, very pleased with my riding and my bike, I wish I could do more rounds but my current schedule is already full, now I can look forward to racing Jamie at the Iron Man Extreme Enduro next Sunday !!! i'll be surprised if he enjoys Enduro as much as I enjoyed this !Ē
Julian Stevens Team Manager ď Of course I was nervous at first when Jonny showed interest to race a British Championship SX, but he is no fool on an MX bike and riding very well at the moment, we decided that it would help improve his speed for the Indoor Enduro Championship. I have to be honest he performed far better than anyone could have expected including me, he was racing with those guys on equal terms and not just simply surviving, Jonny was mixing it with the UK's best MX riders and pushing them at their own game, I can't wait for the indoor Enduro season to start, we are very close to being ready to make a serious assault on that championship.ď
Qualifying Race 1. James Dunn KTM 2. Brad Anderson Honda 3. Tom Church KTM 4. Josh Waterman Kawasaki 5. Jonny Walker KORR KTM 250 SX
LCQ 1. Neville Bradshaw Honda 2. Jamie Law KTM 3. Gordon Crockard Kawasaki 4. Jonny Walker KORR KTM 250 SX
Next Event:- Iron Man Extreme Enduro, North Yorkshire, October 29th
---
Red Bull Sea to Sky
Kemer, Turkey
At the holiday resort of Kemer on Turkey's South coast the Kemer Motorcycle club hosted the second edition of their Sea to Sky race, literally an Extreme race which starts on the beach and finishes 2635 mtr above the sea on the peak of Mount Olympus, a place only accessible by Foot, Cable Car or Extreme Motorcycle.
This region of Turkey has all the ingredients for a perfect Extreme race, a welcoming town to host the riders and teams, already thousands of spectators and natural terrain that is perfect to test the riders and their bikes.
The format for this race is 3 stages over 2 days, Saturday is the qualifying day and decides the starting order for day 2. The first test for the 85 participants would be a true beach race with the course running down to the Mediterranean sea. A Le Mans style start got the race underway, the ever so enthusiastic locals did not even wait for starting orders and took a home advantage, Jonny not quite expecting the start so soon was caught off guard. However he made light work of his poor start by moving up the leader-board quickly and passed around 20 riders to take the lead in just a couple of laps, once out front with a safe 26 second margin he cruised to the finish of the 20 minute moto and finished in front of Chris Birch making a KTM one two result.
From the Beach the riders had around 10 minutes to get prepared and leave for the center of Kemer, here they would be seeded for race 2 based on the beach race results. At 30 second intervals the riders would start the 40km Forest race again from the beach from a river bed running through the center of town. Jonny on pole position started the race in a much more controlled manner and 30 seconds later Chris Birch would follow and each rider after that 30 seconds apart.
At the 10km check point riders could refuel without assistance and JW was first to stop, but the more experienced Birch took a small gamble and decided not to fuel, this would save him at least 1 minute and allow him to catch on Jonny's lead. Furthermore Jonny would crash down a small ravine and lost more time and while retrieving his bike could only watch his KTM team-mate pass by. So the order of stage two was a reverse of the first race with Birch taking the win from Jonny and again a KTM one two, the result from stage 2 decided which row riders would start on Sunday, Groups of 10 riders will be leave at 30 second intervals.
Day 2 would see very different condition's, Saturday had temperatures close to 30 degrees and Sunday was overcast and cool, you could not even see the mountain top and rain threatened and eventually storms arrived just as the leaders finished.
At 9.00am the race got underway from the beach and once again nervous riders jumped the start which left Jonny with work to do, but within minutes he passed his rivals and took the lead once again and would remain there until around half distance when Jarvis caught him, Jonny let him through so Graham could guide the route and meet the hazards first, the idea of this tactic was to give himself chance for a rest and let Graham do the hard work and maybe make mistakes, however it would be Jonny who made a mistake and hit a tree, it great pain there was no way he could match the pass of Jarvis and had to settle for defending second. With great relief he reached the summit, a few minutes down on Graham but most importantly in a good solid 2nd position.
Jonny Walker Azego KORR KTM 300 EXC:- ď I've had a great weekend, I'm so pleased that KTM, Red Bull and the organisers helped me to race in Turkey, the Beach race was so much fun and the mountains trails really spectacular, the club made a really good course, I pushed hard in the main race but I was making a few mistakes and getting tired, so I decided it was better to follow Graham and try to learn from him, but I hit a tree very hard with my shoulder and have damaged it quite bad and thought at first maybe I would need to stop, after this it was difficult to ride the bike and I could no longer match Graham's pace, but I was too close to the finish to give up. Thanks to all the people who helped me and made me feel welcome in Turkey, my priority now it to get fixed up quickly as we have many more races in the next few weeks, I think that my shoulder is fractured,Ē.
Julian Stevens Team Manager:- ď A really great event which i'm sure has a great future in the world of extreme racing, something very different from other races and an excellent combination of terrain. Jonny has had a great weekend, winning the beach race in style and showing great pace on the forest and mountain race's, being a rookie to extreme his has a lot still to experience and learn, but he is showing that he is a fast learner and has great potential, another podium at a major international event shows his consistency and talent. I'm hoping there is nothing to serious with his shoulder, but he has a great deal of swelling so its important that we get him straight to hospital for xrays once we get back to the UK. A big thanks to KTM, Spormoto and Red Bull Turkey for helping with logistics and also Taurus Traxs (Enduro Tours Turkey) for excellent race support, we really look forward to coming back next yearĒ